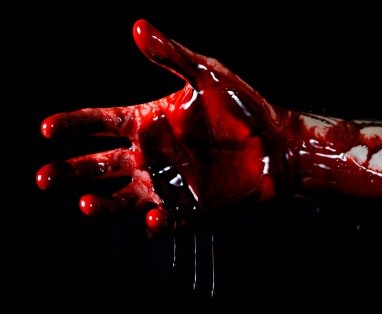 True Christians are not like other people in various ways. One of the chief ways is, we were bought with a price — the blood of Jesus Christ shed on the cross. We no longer belong to the world (John 15:19), but now we belong to the Lord Jesus (Rom. 14:8; 1 Cor. 7:39; Gal. 3:29; etc.). That makes us his property! We are his bride and his body. He paid for us and now we belong to him. That makes me happy! Thank you Jesus! Please know, the price that the Lord Jesus paid for us to be his property was very high, but not as we tend to understand payment:
For you know that it was not with perishable things such as silver or gold that you were redeemed from the empty way of life handed down to you from your forefathers, but with the precious blood of Christ, a lamb without blemish or defect. (1 Pet 1:18,19)
Christians are blood bought and redeemed by Jesus' precious blood shed on the cross, once and for all (Heb. 10:10). It was the same holy blood which cleansed us of our sins (Heb. 1:3; 2 Peter. 1:9) at the point of salvation and sets us free from our numerous sin addictions (Rev. 1:5 cf. Rom. 6:22).
Do you not know that your body is a temple of the Holy Spirit, who is in you, whom you have received from God? You are not your own; you were bought at a price. Therefore honor God with your body. (1 Cor 6:19,20)
Because we were bought with a price, we are to honor God with our physical bodies and even offer our bodies as living sacrifices, holy and pleasing to God (Rom 12:1). We are to be holy in all we do (1 Pet 1:15). Why? Among other reasons, we were bought with a price and are God's property—his possession!
For all who were bought with a price, overcome and actually inherit eternal life in the end, there will be a beautiful paradise awaiting us in an environment free from all wicked people. Since there is no once saved always saved, you must hold on to what you have (Rev. 3:11).
Then they will go away to eternal punishment, but the righteous to eternal life. (Mat 25:46)