Mercy Walked In is a gospel song, which has been heard by millions over the years. That, nevertheless, is not good because the song lyrics do not pass the scriptural test (1 Thess. 5:21). Mercy Walked In includes biblical terms and concepts mixed in with partial truths, but they have been disjointed from their context and are, therefore, highly misleading and spiritually poisonous.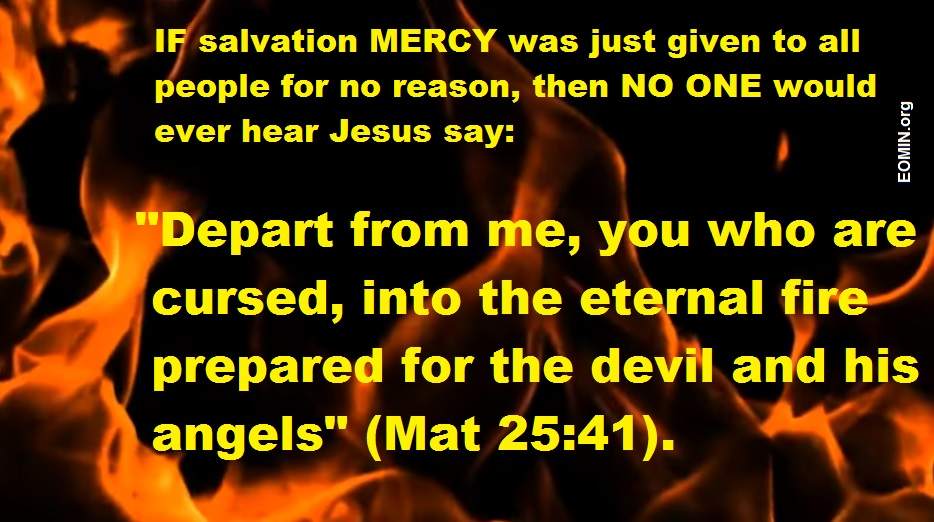 Because people are not reading their Bibles, and because so many false teachers are in high and influential places, multitudes of susceptible victims are just gullibly trusting the spiritual message of the beautifully sung, popular songs. That is also the pitfall here, especially when sung from a reputable platform.
To evaluate Mercy Walked In with God's word yields very disturbing findings, especially when one realizes that multitudes of souls have been exposed to such dangerous lyrics. The one and only plan of salvation (the gospel), which yields life-giving results, salvation mercy and forgiveness of sins, includes a different message!
The Biblical message contains the vital necessity of repentance and a submissive faith in the Lord Jesus to follow him – doing God's will (Acts 20:21; 26:20; Lk. 9:23; 1 Thess. 1:9; Mt. 10:37,38; Lk. 8:21; etc.). Such, however, is certainly NOT the teaching of Mercy Walked In; the message of the song is terribly devoid of repentance and doesn't even mention the PRECIOUS Lord Jesus Christ at all. The gist of Mercy Walked In is summarized here:
A defenseless and sinfully guilty person stands before the judge. Then, out of nowhere, mercy walks in the court room and rescues him with the help of saving grace. Consequently, his sins are forgiven and he becomes born again.
Here are the actual lyrics with further important comments to follow:
Mercy Walked In  Deadly Lyrics
I stood in the court room the judge turn my way
It looks like you're guilty now what do you say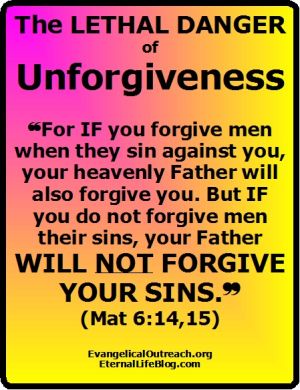 I spoke up your honor I have no defense
But that's when mercy walked in
Mercy walked in and pleaded my case
Called to the stand God's saving grace
The blood was presented that covered my sin
Forgiven when mercy walked in
I stood there and wondered how could this be
That someone so guilty had just been set free
My chains were broken I felt born again
The moment that mercy walked in
Mercy walked in and pleaded my case
Called to the stand God's saving grace
The blood was presented that covered my sin
Forgiven when mercy walked in
The blood was presented that covered my sin forgiven when mercy walked in.
Song Summary:
Mercy and forgiveness were just granted to a person without that person being "worthy" of Jesus, in contrast to God's requirements for salvation (Mt. 10:37,38). Mercy Walked In, therefore, is a different gospel message – a false hope and a dangerous religious myth.
God's Truth About Mercy, Forgiveness and Salvation
The real scriptural truth is: to be forgiven of sins (to be saved) one must repent (turn away from) his sins. People who die sinful, without a PURE HEART, will not be shown mercy unto salvation afterwards. Here is proof:
For of this you can be sure: No immoral, impure or greedy person–such a man is an idolater–has any inheritance in the kingdom of Christ and of God. Let no one deceive you with empty words, for because of such things God's wrath comes on those who are disobedient. Therefore do not be partners with them. (Eph 5:5-7)

Repent, then, and turn to God, so that your sins may be wiped out, that times of refreshing may come from the Lord, (Acts 3:19)

Let the wicked forsake his way and the evil man his thoughts. Let him turn to the LORD, and he will have mercy on him, and to our God, for he will freely pardon. (Isa 55:7)

Godly sorrow brings repentance that leads to salvation and leaves no regret, but worldly sorrow brings death. (2 Cor 7:10)

I tell you, no! But unless you repent, you too will all perish. (Luke 13:3)

I tell you, no! But unless you repent, you too will all perish. (Luke 13:5)

I have declared to both Jews and Greeks that they must turn to God in repentance and have faith in our Lord Jesus. (Acts 20:21)

The Lord is not slow in keeping his promise, as some understand slowness. He is patient with you, not wanting anyone to perish, but everyone to come to repentance. (2 Pet 3:9)
KEY: one absolutely must repent in order to be saved and set free from his sin addictions (Rom. 6:6,7), but that is never the impression one will get by listening to Mercy Walked In.
Furthermore, Jesus taught it was only the sincere and humble man who personally asked God for mercy because of his sins, who was justified, unlike the other one who was likewise guilty, but who did not do the same to receive get God's mercy (Lk. 18:9-14). Besides that, "Judgment WITHOUT mercy will be shown to anyone who has not been merciful…" (James 2:13). Both of those points are totally unlike the Mercy Walked In song.
Jesus also taught, "Blessed are the merciful, for they will be shown mercy" (Mt 5:7). It doesn't just happen. God's mercy is extended to those who fear him (Luke 1:50), but many do not. Some will hear the "judge of the living and dead" (2 Tim. 4:1) say to them: "Depart from me, you who are cursed, into the eternal fire prepared for the devil and his angels" (Mat 25:41). That is spiritual reality, in contrast to the deceptive Mercy Walked In song.
Without question, it takes an obedient faith in the Lord Jesus to be forgiven:
You are all sons of God through faith in Christ Jesus, (Gal 3:26)

The one who sows to please his sinful nature, from that nature will reap destruction; the one who sows to please the Spirit, from the Spirit will reap ETERNAL LIFE. Let us not become weary in doing good, for at the proper time we will reap a harvest if we do not give up. (Gal 6:8,9)

All the prophets testify about him that everyone who believes in him [Jesus] receives forgiveness of sins through his name. (Acts 10:43)

…he [Jesus] became the source of eternal salvation for all who obey him (Heb 5:9)

I will rescue you from your own people and from the Gentiles. I am sending you to them to open their eyes and turn them from darkness to light, and from the power of Satan to God, so that they may receive forgiveness of sins and a place among those who are sanctified by faith in me [Jesus].' (Acts 26:17,18)

Whoever believes in him [Jesus] is not condemned, but whoever does not believe stands condemned already because he has not believed in the name of God's one and only Son. (John 3:18)

Therefore, since we have been justified through faith, we have peace with God through our Lord Jesus Christ, through whom we have gained access by faith into this grace in which we now stand. And we rejoice in the hope of the glory of God. (Rom 5:1,2)

We know that we have come to know him if we obey his commands. The man who says, "I know him," but does not do what he commands is a liar, and the truth is not in him. (1 John 2:3,4)

But the cowardly, the unbelieving, the vile, the murderers, the sexually immoral, those who practice magic arts, the idolaters and all liars–their place will be in the fiery lake of burning sulfur. This is the second death. (Rev 21:8)

Dear children, do not let anyone lead you astray. He who does what is right is righteous, just as he is righteous. He who does what is sinful is of the devil… (1 John 3:7,8).

He replied, "My mother and brothers are those who hear God's word and put it into practice." (Luke 8:21)
How Not to be Forgiven (and Not Receive Mercy)
Jesus even taught, how not to be forgiven, which again shows that not everyone will be getting salvation mercy:
For if you forgive men when they sin against you, your heavenly Father will also forgive you. But if you do not forgive men their sins, your Father will not forgive your sins. (Mat 6:14,15)
Having read those relevant scriptures, carefully listen to Mercy Walked In being beautifully sung on a very powerful platform.
The blind Gordon Mote was the singer. Though we all desire to show kindness to people who are handicapped, including Gordon Mote, God's vital salvation truth must be defended because eternal SOULS are hanging in the balance. Certainly people are imperiled by anyone (blind or not; rich or dirt poor), who distorts the gospel.
If Gordon Mote was doing something less critical then handling the word of God in song form, it would not be so serious, but such is not the case.  Therefore, as with anyone else who clashes with the one and only salvation message, we Christians are all commanded to expose the unfruitful deeds of darkness (Eph. 5:11). That is true even when it is inconvenient and highly possible to be misunderstood as with this article here. A blind viper is just as DEADLY as one that is not!
Dear friends, do not believe every spirit, but test the spirits to see whether they are from God, because many false prophets have gone out into the world. (1 John 4:1)