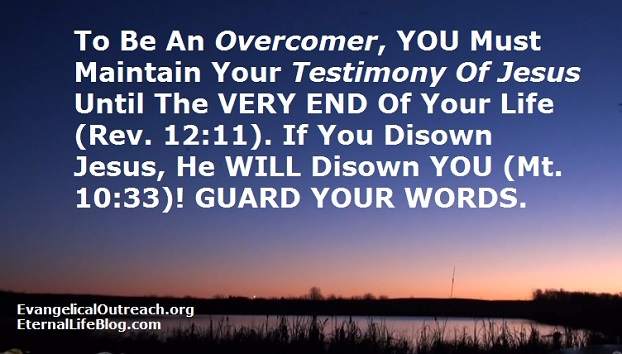 Real followers of Jesus have a Christian testimony which parallels what Paul and others in Bible times were able to testify to after they became new creations in Christ and were delivered from their sin addictions:
At one time we too were foolish, disobedient, deceived and enslaved by all kinds of passions and pleasures. We lived in malice and envy, being hated and hating one another. (Titus 3:3)
Paul refers to the Christian's past life of sin, which was no longer a present tense reality anymore! The past tenses make that clear. He also made a blanket statement, which covers all bases and in all walks of life from the religious lost to the ones who profess to have no religion at all. All children of the devil are:
foolish
disobedient
deceived
enslaved by all kinds of passions and pleasures
live in malice and envy
hateful
When deliverance from sin and salvation came it was not because of righteous things we had done, but because of his mercy. He saved us through the washing of rebirth and renewal by the Holy Spirit (Titus 3:5). That verse proves that even those addicted to sin, as described in Titus 3:3, can at other times do some righteous things. However, none of those righteous things ever brought salvation! The Christian testimony declares God saved us because of God's mercy (v.5). Then in verse 7, we get more little known original truth about eternal life and grace:
So that, having been justified by his grace, we might become heirs having the hope of eternal life. (Titus 3:7)
Paul, who gave us all those wonderful epistles about the Christian life, grace, etc., stated something which is swept under the rug by the popular teachers because it doesn't fit into their flawed theology. In verse 7 he started off by saying Christians were justified by grace, then came the bombshell! He said, we might become heirs having the hope of eternal life. Imagine that! He said Christians might become heirs and eternal life was a hope. Why? Because as he stated elsewhere, we will reap eternal life if we don't give up sowing to please the Spirit:
The one who sows to please his sinful nature, from that nature will reap destruction; the one who sows to please the Spirit, from the Spirit will reap eternal life. Let us not become weary in doing good, for at the proper time we will reap a harvest if we do not give up. (Gal 6:8,9)
(Paul clearly didn't embrace eternal security.) Dear reader, if your Christian testimony can't relate to what Paul wrote, you don't have real salvation. Do you know Jesus?