[Bible Question] …The question about salvation keeps popping up in my mind. I don't know if I am really saved. I am so confused about all the false doctrine I received over the years that I don't know what's right anymore.  Where do I start?
We Can KNOW We Are Saved NOW
[Bible Answer] Greetings in Jesus' name. There are various ways a person can know he is saved in the present time. Here are the main checkpoints: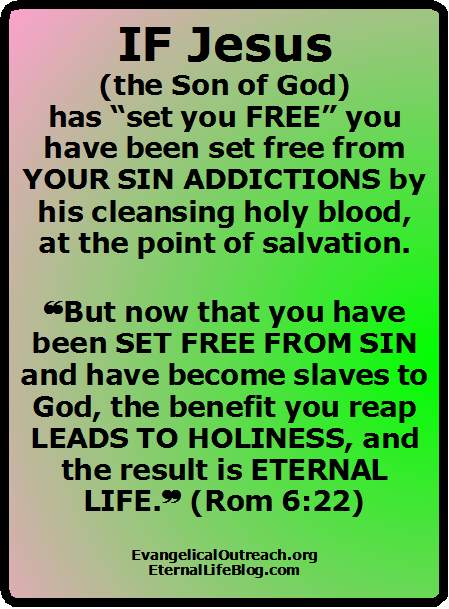 Are you set free from all sin addictions NOW because of a faith in Jesus – one that follows and serves God? (Rom. 6:22; 1 John 2:3,4)
Is the focus and TRUST for your salvation the Lord JESUS and him alone? (John 14:6; Acts 4:12; 1 John 5:12)
Are you righteously different than others? (1 John 3:7,8)
Are you living HOLY now? (Heb. 12:14; 1 John 3:10)
Are there any verses which would condemn you such as Mt. 5:28,29; 1 Cor. 6:9,10; Eph. 5:5-7; Rev. 21:8; etc.
Do you have LOVE IN YOUR HEART for Christians.
We know that we have passed from death to life, because we love our brothers. Anyone who does not love remains in death. (1 John 3:14)
Do the unredeemed people around you hate you because of your faith in JESUS?
All men will hate you because of me, but he who stands firm to the end will be saved. (Mat 10:22)
If you belonged to the world, it would love you as its own. As it is, you do not belong to the world, but I have chosen you out of the world. That is why the world hates you. (John 15:19)
The Spirit himself testifies with our spirit that we are God's children (Rom 8:16).  Though this is true it seems the devil can cause confusion with this, unless a person is firmly grounded in Scripture.
The Righteous Can Die Spiritually
Because the righteous can die spiritually after getting born again, you must guard your heart and keep yourself pure. Many who do get saved, afterwards fall away. You must endure hatred to the end to be saved [enter God's kingdom], Mt. 10:22; Heb. 3:14; Rev. 2:10,11. It seems that the so-called church of our day has been gutted of truth and it has been replaced with a super flood of false teaching! Jesus warned there would be many false prophets. YOU must get in the Bible directly and learn its message for yourself. Until you do you will not know what to believe, which could be spiritually fatal. Do NOT merely listen to TV and radio teachers, because there are so many conflicting doctrines. ONLY the Bible is 100% TRUTH.
Remember also God gives grace [favor] to the HUMBLE. Humbly and sincerely go to God repentantly and ask him for mercy and forgiveness to follow him in this sin-loving, truth-hating world. Draw near to him and he'll draw near to you. Hopefully, this answers your question.