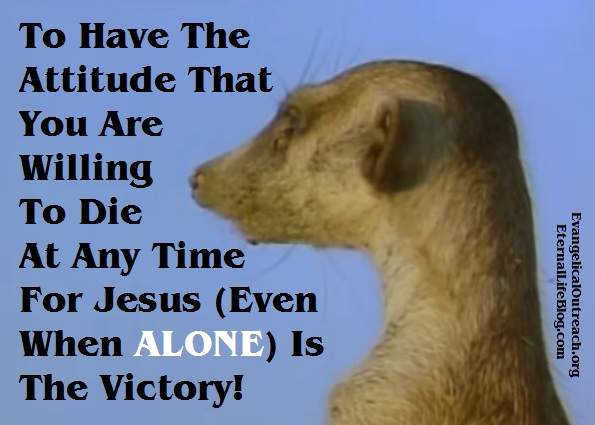 A Christian is a person who is following Jesus in our truth-rejecting, sin-loving society, even when the circumstances are dangerously adverse. Because a Christian is often alone throughout the course of his weekly routine, he will be tested at times when there are no other Christians around. Sometimes those tests can be very severe and come suddenly. Hence, we must have our hearts dedicated to do God's will and remain faithful regardless the circumstances and the ramifications, as we await our own physical death. To have the attitude that you are willing to die at any time for Jesus (even when alone) is the victory, and for some who have been exposed to those circumstances, the only victory! Christians are called to be witnesses (Acts 1:8) or martyrs, as that Greek word can also be translated.
Godly examples from the past, who faithfully stood alone in the face of severe adversity and testings, are numerous:
Joseph before Potiphar's adulterous wife (Gen. 39:6-20);
Elijah before the 450 false prophets of Baal, 400 false prophets of Asherah and King Ahab (1 Kings 18:16-40);
The prophet Micaiah before King Ahab, who hated him (1 Kings 22:8-28);
Daniel, who would only pray to God, which landed him in the lion's den (Dan. 6:7-24);
John the Baptist, who publicly rebuked King Herod and Queen Herodias for their adulterous marriage (Mk. 6:18), which later cost him his life;
Stephen before ungodly religious leaders, who adamantly embraced Judaism (Acts 6:8-7:60) and killed him;
Philip as he traveled alone witnessing and casting out demons (Acts 8:5-40);
Peter, when in prison and awaiting his trial before Herod, who just had James executed (Acts 12:1-9);
Paul in idolatrous Athens, while he waited for his co-laborers and witnessed in the marketplace and on Mar's hill (Acts 17:14-34);
and millions of unnamed overcomers from the past.
Dear saint, you must learn to stand alone, for one day you will surely be tested when there are no other Christians around. If you disown Jesus, he will disown you as he said (Mt. 10:33; 2 Tim. 2:12).