As strange as it might sound, in 1907 Dr. Duncan MacDougall from Massachusetts tried to prove man has a soul by weighing dying people at their death.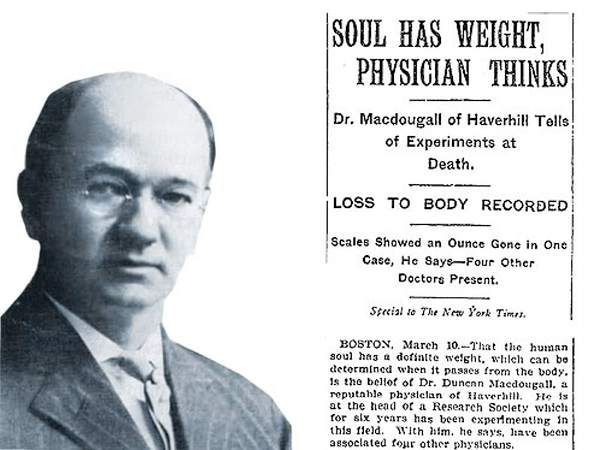 When done he noticed a slight weight change occurred. The weight change was a sudden 3/4 of an ounce less at the point of death. When 15 dogs were likewise tested there was no weight change for them. Duncan MacDougall wanted to prove man was different from an animal by having a soul in an effort to combat evolution.
At Death, The Spirit Departs
God's word says at the point of death, the spirit departs the physical body:
As the body without the spirit is dead, so faith without deeds is dead. (James 2:26)
The analogy is clear. A dead body is like a dead faith. The former is lacking the spirit and the latter is lacking good deeds. Hence, a so called faith in Jesus without good deeds is not a saving faith in Jesus.
The Spirit Returned and She Became Alive
The reverse of a dying and dead body is one which is brought back to life. Note the details when Jesus raised a young girl from the dead:
But he took her by the hand and said, "My child, get up!" Her spirit returned, and at once she stood up. Then Jesus told them to give her something to eat. (Luke 8:54,55)
The spirit departs at death and the spirit returns when being raised from the dead. The spirit, therefore, is the life force.
Jesus Taught About The Soul
Jesus said much about the soul, which is as similar to the spirit as one's joints are to the marrow (Heb. 4:12):
it is our most valuable possession (Mk. 8:36)
we can find rest for our soul by going to Jesus and taking his yoke upon us (Mt. 11:28-30). Compare to Jer. 6:16.
God alone can destroy our soul in hell (Mt. 10:28)
the body is not the soul (Mt. 10:28)
we are to love God with all of our soul (Mk. 12:30)
Peter said sinful desires war against the soul (1 Pet 2:11). We guard our soul by staying far away from the paths of the wicked (Prov. 22:5).
If Dr. Duncan MacDougall's experiments about the soul of man having weight is correct or not, man's soul definitely does exist! Of course, we know the soul does exist from the Scriptural evidence. Our soul will continue on after our inevitable death, but where will it go? That is the issue. The answer depends on heart purity at the point of death. If you are a Christian are you striving to keep yourself pure (1 Tim. 5:22). Do you have peace with God now? Don't take a chance with your soul.