The Gideon of the bible initially was a God sent deliverer for Israel, who has been made famous in our day by the Gideons International organization. Like many other Biblical characters many church people only know a very little bit about the real Gideon. In this case, they probably only know how God trimmed down Gideon's army to 300, because there were too many to go into battle.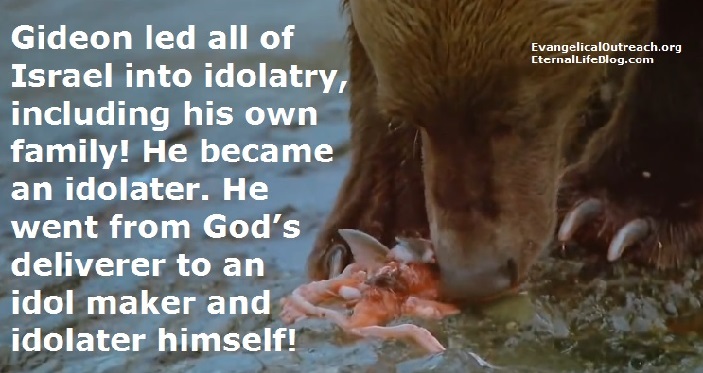 Yes it is true that God used Gideon in a mighty way, but the stirring ending of Gideon is what we need to focus on and learn from! In Judges 8:24-27 we read about that:
And he [Gideon] said, "I do have one request, that each of you give me an earring from your share of the plunder." (It was the custom of the Ishmaelites to wear gold earrings.) They answered, "We'll be glad to give them." So they spread out a garment, and each man threw a ring from his plunder onto it. The weight of the gold rings he asked for came to seventeen hundred shekels, not counting the ornaments, the pendants and the purple garments worn by the kings of Midian or the chains that were on their camels' necks. Gideon made the gold into an ephod, which he placed in Ophrah, his town. All Israel prostituted themselves by worshiping it there, and it became a snare to Gideon and his family.
Gideon made a solid gold ephod (an apron-like vestment worn by priests) and it became an idol, which was worshiped! SHOCKING! What Gideon did was similar to what Aaron did with the solid gold calf idol to appease the people (Ex. 32), but in Gideon's case it was his idea to make it!
Gideon Became A Spiritual Snare and Stumbling Block
Gideon led all of Israel into idolatry, including his own family! He became an idolater. He went from God's man of deliverance to an idol maker and idolater himself! What a spiritual fall, and there is no biblical evidence he ever returned to God! That gold ephod, worth big money in the natural, was a deadly snare to millions of souls and it originated from a man who was raised up by God in answer to prayer! Imagine that! The Apostle John wrote:
Dear children, keep yourselves from idols. (1 John 5:21)
In the New Testament, idolatry is expanded to include greed (Col. 3:5) and such a sin unto death will exclude any faithful servant of the past from God's kingdom (1 Cor. 6:9,10; Rev. 21:8).
Gideons International Is Stumbling Others
Now that we know those details about Gideon, how could Gideons International chose a name for their organization from a man who lost his salvation and stumbled all of Israel into idolatry? That just doesn't seem to fit a group trying to do good by spreading the word of God through distributing bibles. But then again, the name Gideon is befitting when one realizes Gideons International is also spreading the damnable heresy of eternal security, which is stumbling multitudes into idolatries of our day!