What would you think of a denomination which claims to be Christian, yet violently contradicts the very way salvation itself was purchased? Shouldn't you consider it fatally flawed on that point alone? Furthermore, wouldn't such also show its leaders are not directed by the Spirit of truth (the Holy Spirit)? Absolutely!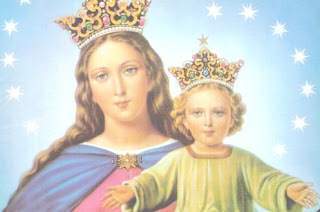 Roman Catholicism actually declares that very thing by teaching Mary is Co-redeemer with the Lord Jesus! Catholicism has done that through various popes and Catholic church councils, which have referred to Mary as the co-Redemptress. Here are a few quotes:
Pope Leo XIII: "The recourse we have to Mary in prayer follows upon the office she continuously fills by the side of the throne of God as Mediatrix of Divine grace; being by worthiness and by merit most acceptable to Him, and, therefore, surpassing in power all the angels and saints in Heaven. Now, this merciful office of hers, perhaps, appears in no other form of prayer so manifestly as it does in the Rosary. For in the Rosary all the part that Mary took as our co-Redemptress comes to us, as it were, set forth, and in such wise as though the facts were even then taking place; and this with much profit to our piety, whether in the contemplation of the succeeding sacred mysteries, or in the prayers which we speak and repeat with the lips." (Iucunda Semper Expectatione, n. 2)

Mary is queen not only because she is Mother of God, but also because, associated as the New Eve with the New Adam, she cooperated in the work of the redemption of the human race (Pope John Paul II, Theotokos, 2000, p. 210).
The antithesis of such fabricated theology is stated in God's word. It is only Jesus, and his precious blood shed on the cross, which has paid for our sins and he alone should get the credit for it. In Scripture there is never any mention of Mary, in any way, sharing in man's redemption: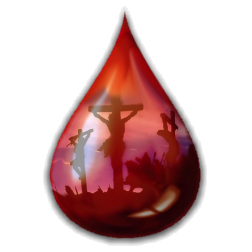 But now in Christ Jesus you who once were far away have been brought near through the blood of Christ. For he himself is our peace, who has made the two one and has destroyed the barrier, the dividing wall of hostility, (Eph 2:13,14)

And so Jesus also suffered outside the city gate to make the people holy through his own blood. (Heb 13:12)

He [Jesus] is the atoning sacrifice for our sins, and not only for ours but also for the sins of the whole world. (1 John 2:2)

He himself bore our sins in his body on the tree, so that we might die to sins and live for righteousness; by his wounds you have been healed. (1 Pet 2:24)
Those Scriptures are all crystal clear and already set the record straight. The next one is the proverbial icing on the cake since in heaven they sing about man's redemption and give all the credit to Jesus without mentioning Mary, even in the slightest way:
And they sang a new song: "You are worthy to take the scroll and to open its seals, because you were slain, and with your blood you purchased men for God from every tribe and language and people and nation." (Rev 5:9)


The magnitude of that sole Catholic error about redemption is enough to identify Roman Catholicism, and its leadership, as being apart from Biblical Christianity! Their false exaltation of their Catholic Mary, is a lethal stumbling block and idolatrous snare for hundreds of millions, yet very few are saying anything about it! In fact, just the opposite. The established and supported spokesmen for Bible-believing Christianity endorse Catholicism as Christian and praise the popes, such as John Paul II as though they were great spiritual lights! Billy Graham, Benny Hinn and Jack Van Impe are just a few horrible examples. Our present day apostasy is glaringly obvious, if one has eyes to see and ears to hear. BTW, there are other areas of lethal Catholic deception, which also show it is a bogus Christian system. As an ex Catholic, I was never taught correctly by them about how to find peace with God!