The Scriptures refuting the doctrine of demons commonly called eternal security (or once saved always saved or the perseverance of the saints) are plentiful to someone who has had his eyes opened by the Holy Spirit.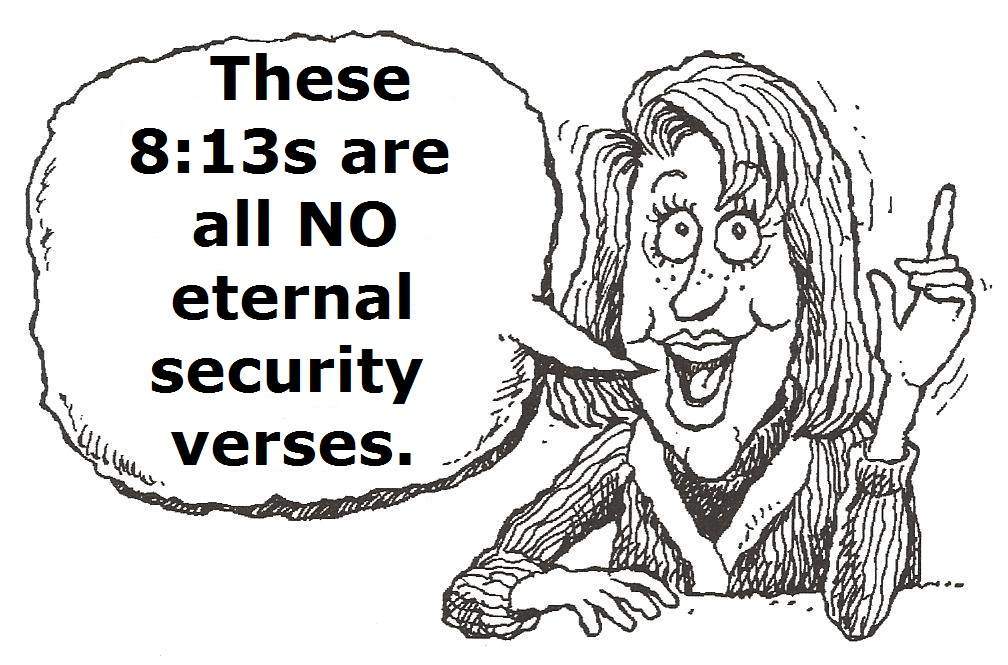 They are everywhere, but it is so nice to have several in easy reach by knowing the Biblical references. That is where the 8:13s come in.
They Believe For A While
Those on the rock are the ones who receive the word with joy when they hear it, but they have no root. They believe for a while, but in the time of testing they fall away. (Luke 8:13)
This is a key verse to note when studying the Parable of the Sower, but one that has been carefully avoided by the eternal security teachers! Why? Because it proves that a believer can cease believing and die spiritually through persecution. In other words it is a NO eternal security verse.
Simon
Simon himself believed and was baptized, so he had a saving faith at one point:
Simon himself believed and was baptized.  And he followed Philip everywhere, astonished by the great signs and miracles he saw. (Acts 8:13) … When Simon saw that the Spirit was given at the laying on of the apostles' hands, he offered them money (Acts 8:18) and said, "Give me also this ability so that everyone on whom I lay my hands may receive the Holy Spirit." (Acts 8:19) Peter answered: "May your money perish with you,because you thought you could buy the gift of God with money! (Acts 8:20) You have no part or share in this ministry, because your heart is not right before God. (Acts 8:21) Repent of this wickedness and pray to the Lord. Perhaps he will forgive you for having such a thought in your heart. (Acts 8:22) For I see that you are full of bitterness and captive to sin." (Acts 8:23)
Simon, who got converted to Christianity and water baptized (Acts 8:13), later was full of bitterness and captive to sin. His heart was no longer right with God, according to Peter and he would perish in that condition. He needed to repent and get forgiven. His future sins were not automatically forgiven as heretics want us to believe. Also, Peter (who Catholics say was the first pope) did not have Simon confess his sins to him! Instead, he told Simon to pray to the Lord. 
Spiritual Death Through Sin
Therefore, brothers, we have an obligation–but it is not to the sinful nature, to live according to it. (Rom 8:12) For if you live according to the sinful nature, you will die; but if by the Spirit you put to death the misdeeds of the body, you will live, (Rom 8:13)
It is apparent that Paul is addressing true Christians (saints) and giving them a hell warning without mentioning hell. To die spiritually, as he taught would happen under those conditions, would place the saint back on the road to hell again.
Weak Christian Brother
The last 8:13 to remember is from 1 Cor.:
So this weak brother, for whom Christ died, is destroyed by your knowledge. (1 Cor 8:11) When you sin against your brothers in this way and wound their weak conscience, you sin against Christ. (1 Cor 8:12) Therefore, if what I eat causes my brother to fall into sin, I will never eat meat again, so that I will not cause him to fall. (1 Cor 8:13)
Example is very powerful. In the above case, a weak Christian would eat food that his conscience forbids him to eat because he saw another Christian do such. That in turn would cause him to fall and be destroyed spiritually, according to true grace teaching. [For many more NO eternal security verses, please consult The Believer's Conditional Security.]