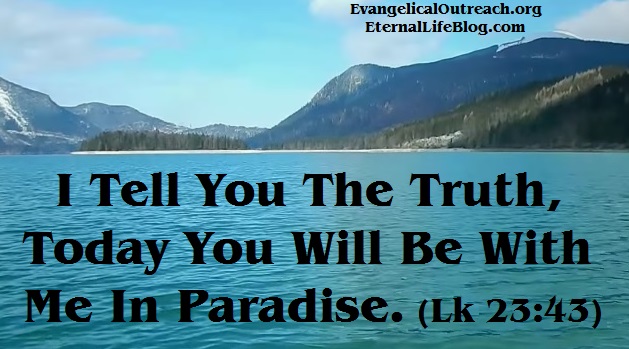 There is a PARADISE environment beyond the grave awaiting the righteous. The people who will be there come from every tribe, people, language and nation. Some used to be drunkards, sexually immoral, thieves, greedy, slanderers, etc., but found forgiveness in the Lord Jesus:
Do you not know that the unrighteous will not inherit the kingdom of God? Do not be deceived; neither fornicators, nor idolaters, nor adulterers, nor effeminate, nor homosexuals, nor thieves, nor the covetous, nor drunkards, nor revilers, nor swindlers, will inherit the kingdom of God. Such were some of you; but you were washed, but you were sanctified, but you were justified in the name of the Lord Jesus Christ and in the Spirit of our God. (1 Cor 6:9-11, NASB)
Even former criminals, who die in Christ, will be in paradise:
I tell you the truth, today you will be with me in paradise. (Luke 23:43)
Jesus spoke those wonderful words to a repentant thief, who just had his heart purified from his sins. He was being executed on a cross for his crime, when he cried out to Jesus. From his heart, that criminal looked to Jesus and in essence asked him for mercy. Instantly, he received forgiveness and Jesus took him into the family. For him, because he had true faith in Jesus, to die was gain.
Paul was once caught up to paradise and heard inexpressible things, things that man is not permitted to tell. (2 Cor 12:4) One day, if you endure to the end (Mt 10:22; Heb 3:14), you may hear the same inexpressible things Paul heard. The promise of Paradise, with all the extras, is open for all who qualify:
He who has an ear, let him hear what the Spirit says to the churches. To him who overcomes, I will give the right to eat from the tree of life, which is in the paradise of God. (Rev 2:7)
If you are not walking as an overcomer now, make the proper spiritual adjustments. It will only be the faithful who will get the crown of life and not be hurt by the second death (Rev 2:10,11). Don't be deceived by a social gospel, once saved always saved, near death experience testimonies, universalism or anything else. A paradise environment beyond the grave is only for the righteous. Narrow is the way to life (Mt 7:14).