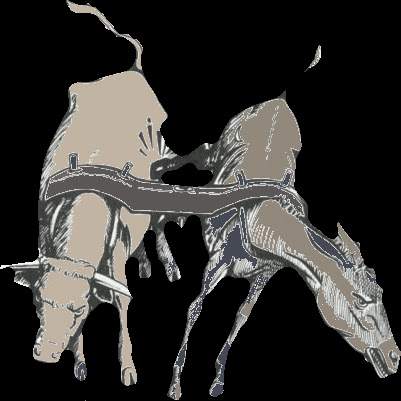 The command and safeguard to be separate from unbelievers and not be unequally yoked with them is vital. For a Christian to have close dealings with any unbeliever as in a business, marriage or even a friendship is to open himself up for spiritual death and hell, besides being irrational. It's irrational, for there is no fellowship between the child of the devil and the child of God, NONE. One is darkness and likened to the temple of idols, and one is light and the temple of God. There is as much harmony between the two as there is between the Lord Jesus and Belial, another name for the devil (2 Cor. 6:14-16) !
A definite example of how a righteous man became unrighteous through being unequally yoked is Solomon. With him it was his pagan wives, which he held fast to in love. He became an idolater like them! NOTE: Solomon got contaminated and became like them instead of the reverse! This is important for those who are self-deceived and think for evangelism reasons they need to associate closely with some unbeliever. This is a powerful refutation to the so-called friendship evangelism of our dark hour.
I have observed that loneliness is one of the chief reasons why some jeopardize their eternal life. They risk eternal life for the sake of friends to pal around with or for a marriage. Hence, you must remain guarded, especially if you are a Christian single. With all of this in mind we read:
Therefore come out from them and be separate, says the Lord. Touch no unclean thing, and I will receive you. I will be a Father to you, and you will be my sons and daughters, says the Lord Almighty. (2 Cor 6:17,18)
If you are a real Christian, you are also the temple of God, but that can change! As the Spirit of God left King Saul (1 Sam. 16:14; 18:12), he can and will leave you too under certain conditions. So take that warning serious and this similar one:
Do you not know that you are the temple of God and that the Spirit of God dwells in you? If anyone defiles the temple of God, God will destroy him. For the temple of God is holy, which temple you are. (1 Cor. 3:16,17, NKJV)
The holy God prepared the holy city (New Jerusalem) for holy people. If you die in an unholy condition, you will not enter Paradise (Mt. 5:8; Heb. 12:14; Rev. 21:27; etc.). Don't be deceived by once saved always saved. To reap eternal life, you must sow to please the Spirit of God (Gal. 6:8). Are you doing such NOW?