Revelation chapters 2 and 3 are very important as to the revealing of what the real Lord Jesus is like and what he considers and wants from the Christians. He's the judge of the living and the dead (2 Tim. 4:1) and the same Jesus revealed in these scriptures will judge us. It is wise now to take the following truths to heart and repent, adjust, etc., if need be. Remember: the timing of Jesus' message to the seven churches in Asia is after the cross and during our present day of grace to the churches.
Jesus Focused On:
(1) Our first love being God, as in the days of being a new convert.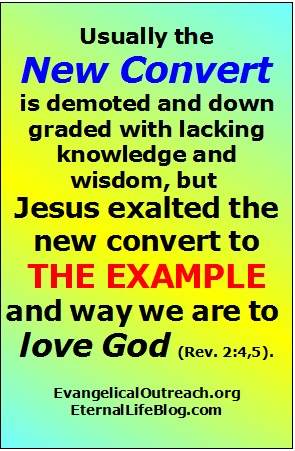 That type of love is to be maintained (Rev. 2:4), which is also the first and greatest commandment (Mt. 22:37,38). The new convert is the example of what kind of love for God Jesus wants from us, even long after we have been saved.
Usually the new convert is demoted and down graded with lacking of knowledge and wisdom, but here Jesus exalts the new converts to the example and way we are to love God. All Christians experience the same wonderful joy and exuberance in the Lord after being cleansed of their defilements and become God's temple. That genuine heart-felt love for God can be forsaken, but also regained again and is vital.
Even though the Ephesians in Rev. 2 had all their commendable godly virtues (2:2,3) that fact did not cancel out that they had forsaken their first love. They had to repent of that sin in order to prevent Jesus from removing their lampstand. That ultimatum was spoken to those sealed by the Spirit and saved by grace – the same church group the book of Ephesians was written to.
[Catholics note: Mary is not mentioned and isn't there to assist or mediate for the saints or to restrain Jesus!]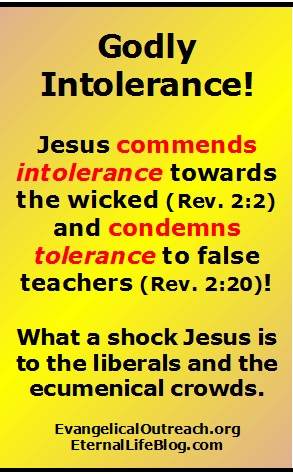 (2) There being no false teachings in the congregation (2:14,15; 2:20). They had to repent of allowing it.
(3) The spiritually sleeping and weak to wake up, strengthen and obey (3:2,3). They too were told to repent of their current spiritual situation.
(4) Not being afraid of what they were about to suffer with persecution and to be faithful to the point of death to avoid being hurt by the lake of fire (2:10,11). That was spoken to a spiritually rich congregation! Jesus also mentioned enduring patiently (3:10); persevering and enduring hardships for his name; not growing weary (2:3); remaining true to Jesus' name and not renounce their faith in Jesus (2:13).
(5) Being boiling hot with Christian zeal (3:15-19). They had to repent of lukewarmness or get spued out of the body of Christ, that is, lose their salvation.
Godly Intolerance
Jesus commends intolerance towards the wicked (Rev. 2:2; 2:6) and condemns tolerance to false teachers (Rev. 2:20)! What a shock to the liberals and the ecumenical crowds.
Commends Testing And Not Being Gullible
…you have tested those who claim to be apostles but are not, and have found them false. (Rev 2:2)
Folks, don't just accept titles and authority people speak of themselves or others. Jezebel called herself a prophetess (Rev. 2:20)! TEST with the scriptures. BE CAREFUL. We are living in days of GREAT DECEPTION and imposters (2 Tim. 3:13). See also 1 John 4:1.
Our Works
Over and over again Jesus told the church groups I know your deeds (works). Here is one example:
I know your deeds, your love and faith, your service and perseverance, and that you are now doing more than you did at first (Rev 2:19).
Our works or deeds are magnified, not the opposite! Jesus describes himself as:
I am he who searches hearts and minds, and I will repay each of you according to your deeds (Rev 2:23).

Behold, I am coming soon! My reward is with me, and I will give to everyone according to what he has done (Rev 22:12).

For we must all appear before the judgment seat of Christ, that each one may receive what is due him for the things done while in the body, whether good or bad (2 Cor 5:10).

God will give to each person according to what he has done. To those who by persistence in doing good seek glory, honor and immortality, he will give eternal life. But for those who are self-seeking and who reject the truth and follow evil, there will be wrath and anger. There will be trouble and distress for every human being who does evil: first for the Jew, then for the Gentile; but glory, honor and peace for everyone who does good: first for the Jew, then for the Gentile. For God does not show favoritism (Rom 2:6-11).
The church crowds have been horribly betrayed by the established church leaders on TV, radio, internet and in books, tracts and magazines. It's time to DRAIN THE FLOODED CHURCH SWAMP!
To the Faithful
Of the 7 churches in Asia only 2 (Smyrna and Philadelphia) were not told to repent.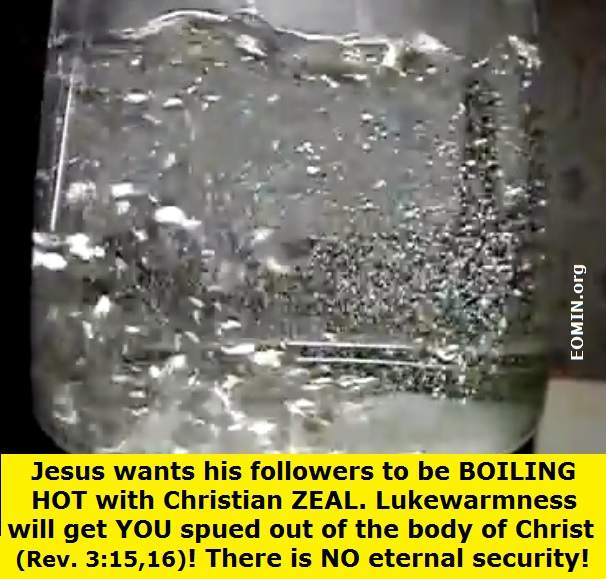 To those faithful Christians Jesus said:
You are going to suffer. Be faithful to the point of death to avoid the second death (lake of fire) and get the crown of life (Rev. 2:10,11).
Endure patiently… hold on to what you have, so that no one will take your crown. (Rev. 3:10,11)
To those at Thyatira who were not deceived by Jezebel, they heard:
Hold on to what you have (Rev. 2:25).
That is the real Jesus, who died for us. Remember these truths and you'll better understand the heart of the precious Lord and Savior Jesus Christ and what God wants from you now.
BTW, none of the church groups heard Well done good and faithful servant at that point because their test was still ongoing. So, if you are walking in accord with God's will, endure hardships patiently to the end for your sake and for the sake of others.