Who is the most dangerous person freely walking about in society – the one who can cause many the greatest harm? Usually people think, it's the:
terrorist
drunk driver
drug dealer
a cop turned criminal
serial killer
serial rapist
people who control nuclear weapons
people on the FBI's ten most wanted list
quack medical doctor
a killer nurse
etc.
In our day, the list can be very long and extensive, but the most dangerous person freely walking about in society is none of them! In fact, the most dangerous man in society is much more dangerous than all of them put together, yet very much unrecognized and sometimes lavishly treated by the same ones who have been victimized!
The Spiritual False Teacher
The most dangerous person in society is the false religious teacher whose harm to his victims will stretch into eternity.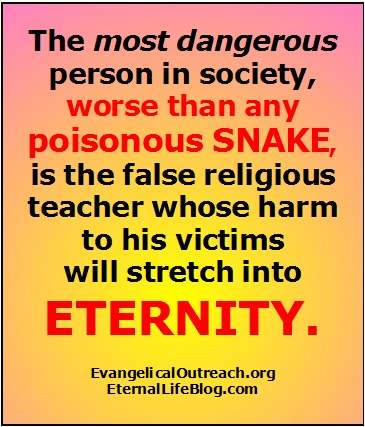 Anyone who opposes the eternal life-giving truths of God's written word (the bible) is dangerous, but if that type of person is in a position of "Christian" leadership he is surely of the absolute most dangerous type alive. The Lord Jesus described such people as ferocious wolves in sheep's clothing:
Watch out for false prophets. They come to you in sheep's clothing, but inwardly they are ferocious wolves (Mat 7:15).
That same type of spiritual danger is referred to by Paul and John:
By this gospel you are saved, if you hold firmly to the word I preached to you. Otherwise, you have believed in vain (1 Cor 15:2).

Timothy, guard what has been entrusted to your care. Turn away from godless chatter and the opposing ideas of what is falsely called knowledge, which some have professed and in so doing have wandered from the faith. Grace be with you (1 Tim 6:20,21).

Their teaching will spread like gangrene. Among them are Hymenaeus and Philetus, who have wandered away from the truth. They say that the resurrection has already taken place, and they destroy the faith of some (2 Tim 2:17,18).

See that what you have heard from the beginning remains in you. If it does, you also will remain in the Son and in the Father. And this is what he promised us–even eternal life. I am writing these things to you about those who are trying to lead you astray (1 John 2:24-26).
The only true faith is the tried and proven Christian faith, that is, solidly bible based. Any opposing doctrine to God's written word is the devil's lie and doctrines of demons designed to destroy souls. In other words, the most dangerous people in the world can look holy and harmless, even like innocent sheep (Christians), but are very far from it as they oppose biblical truth.
Globally, the most dangerous people include the:
A ferocious wolf in the disguise of a Christian guide and leader is the most dangerous predator type to the sheep.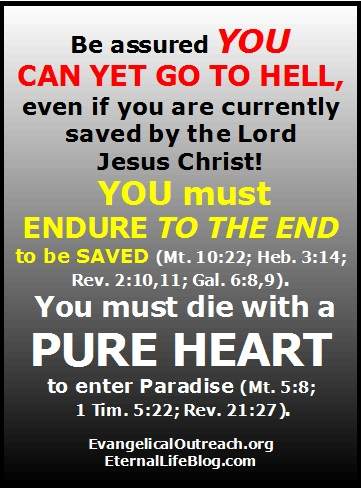 Don't be misled by their self-exalting title of apostle, prophet, etc. Too often, he will aggressively seek out Christians to prey upon, that is, to spiritually devour.
Furthermore, the most dangerous man loose in society will somehow distort how to enter God's Paradise kingdom after death. In our day, filled with religious deceit and trickery, right in the midst of God's children are the dangerous blind guides known as the eternal security teachers.
Similarly, there is a yet a different type of ferocious wolf in sheep's clothing who rejects eternal security, while essentially teaches the same lethal way! He's the person who teaches a license for sin, but does it in a concealed manner – trying to reach a wider audience with his counterfeit message. Be assured such people can cite scripture, even as fluently as the devil, but teach sins unto death are not spiritually lethal.
Sin Unto Death
The true understanding of sin unto death is any unforgiven sin that will exclude anyone, including a Christian, from God's kingdom such as listed in 1 Cor. 6:9,10; Eph. 5:5-7; Rev. 14:9-12; 21:8; 22:19; Mt. 10:33; etc. Furthermore, to just preach a false gospel (false way to be saved) will damn the preacher (Gal. 1:8,9 cf. 1 Cor. 15:2; 2 Pet. 2:1).
Spiritual death for the righteous who turn to sin is taught from Gen. 2:17 through Rev. 22:19 and those warnings begin and end with that possibility of that happening over one sin. That is not to say that one sin can always do that, because it can't.
Three Dangerous Types Who Reject Eternal Security
In Christian circles some of the most dangerous people loose in society, who correctly reject eternal security come in three types:
deny that one sin, such as disowning Jesus, can possibly result in spiritual death
deny a backslider can return to salvation
teach salvation comes from faith in Jesus and our good works.
Scriptural truth is:
The ferocious wolves in sheep's clothing who teach one must practice sin to lose salvation and occasional sins are salvation-safe, will never tell you when you cross over from occasional to practice sin! Like the others, their poison is sweet, but also deadly. Be alert! There are:
NO Christian adulterers
NO Christian drunks
NO Christian thieves
NO Christian idolaters
NO Christian slanderers
NO Christian murderers
etc.
Now you know who the most dangerous people walking about freely in our society. They are the ones who hurt another's soul. They are teaching contrary to the bible about how to be initially forgiven or how to get into God's paradise kingdom to be with God after death. It will be to your great spiritual advantage to avoid them (Rom. 16:17,18) and to warn others, which will not always be well received.
Be assured you can yet go to hell, even if you are currently saved by the Lord Jesus Christ. You must endure to the end to be saved (Mt. 10:22; Heb. 3:14; Rev. 2:10,11; Gal. 6:8,9). You must die with a pure heart to enter Paradise (Mt. 5:8; 1 Tim. 5:22; Rev. 21:27). You are battling for ETERNITY. FIGHT HARD AND BE FAITHFUL TO GOD.