An anonymous Australian gold prospector with a $6,000 metal detector recently made the find of a lifetime – a huge gold nugget weighing 12 pounds and possibly worth $500,000!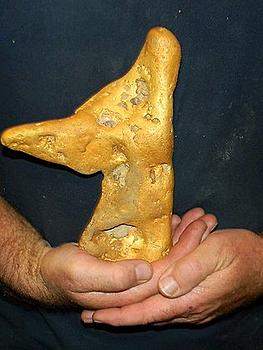 Here is how it began:
Kent told Australian news site Adelaide Now that the prospector heard a faint alert on his detector and scooped up a pile of leaf mulch before digging. The miner thought he had uncovered a gold car part at first but, to his disbelief, kept unearthing a bigger and bigger chunk of real gold. ( http://www.huffingtonpost.com/2013/01/17/gold-nugget-australia-ballarat-found_n_2496663.html?utm_hp_ref=business&amp  )
As exciting as that moment was for that gold prospector, imagine how joyful he could have been to find the hidden treasure and pearl of great price, which the Lord Jesus spoke about! Such a hidden treasure and pearl of great price is worth infinitely more than a mere 12 pound gold nugget which perishes, and a much greater price was paid to make it available to all. Peter wrote:
For you know that it was not with perishable things such as silver or gold that you were redeemed from the empty way of life handed down to you from your forefathers, but with the precious blood of Christ, a lamb without blemish or defect. (1 Pet 1:18,19)
God bought the saints with his own blood, which is much more valuable than a mere 12 pound gold nugget:
… Be shepherds of the church of God, which he bought with his own blood. (Acts 20:28)
BTW, the real Apostle Paul, who would beat his body and make it his slave so that after he preached to others, he himself would not be a castaway (or reprobate) (1 Cor 9:27), if he was alive today, would not have coveted that man's 12 pound gold nugget:
I have not coveted anyone's silver or gold or clothing. (Acts 20:33)
One day, gold as we know it now, will have no value, but a different type of gold will be found and used like asphalt in New Jerusalem:
The twelve gates were twelve pearls, each gate made of a single pearl. The great street of the city was of pure gold, like transparent glass. (Rev 21:21)
The overcomers will walk on that gold street because they are worthy to be there through the Lord Jesus. Do you have the saving faith needed to join them? Do you know what eternal life is?