The Apostle Paul wrote something about himself becoming a castaway in 1 Cor. 9:27, which has caused many to wonder. What does that mean? From the KJV it reads: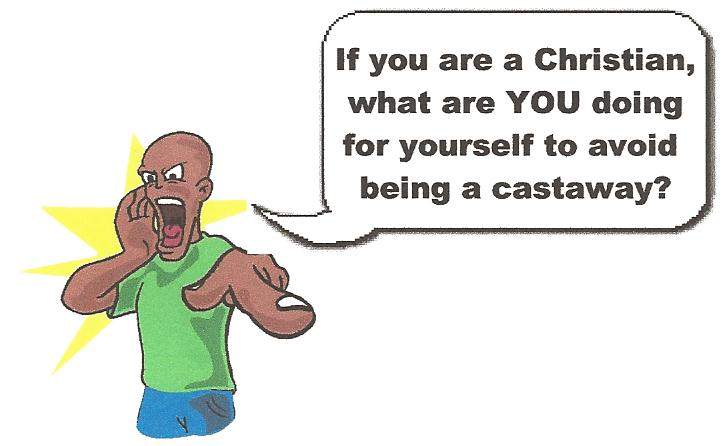 But I keep under my body, and bring it into subjection: lest that by any means, when I have preached to others, I myself should be a castaway.
Clearly, Paul knew he was responsible to prevent himself from being a castaway and consequently he did something about it! What he did to prevent being a castaway was to his own physical body. The controversy is, was Paul saying there, as he did elsewhere, that a Christian can lose his salvation? In other words, what does the Greek word translated castaway mean? That word is found 8 other times in the New Testament and has been translated by the KJV to mean reprobate, rejected or castaway. Its usage is clearly for one who is unsaved, that is, one who is not a possessor of eternal life. Here are two times such is clear:
They profess that they know God; but in works they deny him, being abominable, and disobedient, and unto every good work reprobate. (Titus 1:16)
Now as Jannes and Jambres withstood Moses, so do these also resist the truth: men of corrupt minds, reprobate concerning the faith. (2 Tim 3:8)
The point is, Paul knew as a Christian saved by grace he could sow to please the flesh and reap destruction instead of eternal life (Gal. 6:8,9); that Timothy could shipwreck his own saving faith as others did, and he needed to hold on to faith and a good conscience to prevent losing his own salvation (1 Tim. 1:19,20). He therefore warned Christians they could yet not inherit God's kingdom (and go to hell) in Eph. 5:5-7, Gal. 5:19-21 and elsewhere. We are battling for eternity with our own SOUL and the SOULS of others being in jeopardy. Jesus said we must endure hatred to the end to be saved (Mt. 10:22) and be faithful to God to the point of death to avoid being hurt by the second death (Rev. 2:10,11). [The second death is another name for the lake of fire (Rev. 20:14; 21:8).] To the Corinthians he wrote:
But I keep under my body, and bring it into subjection: lest that by any means, when I have preached to others, I myself should be a castaway.
Paul knew just preaching the gospel truth to others, under grace, wasn't a sure ticket to heaven. Judas Iscariot was a preacher and he went to hell (Mk. 14:21; Jn. 17:12). In short, to be an overcomer to enter God's kingdom after death, one must do the will of the Father:
Not everyone who says to me, "Lord, Lord," will enter the kingdom of heaven, but only he who does the will of my Father who is in heaven. (Mat 7:21)
For Paul that meant to beat his body and make it his slave so that after he has preached to others, he himself would not be disqualified for the prize. (1 Cor 9:27, NIV). Unlike most in our day, Paul knew he had the responsibility to do something to prevent his own spiritual destruction or as he said lest he should be a castaway! He was very serious about inheriting eternal life (Mt. 19:29) and proceeded cautiously.