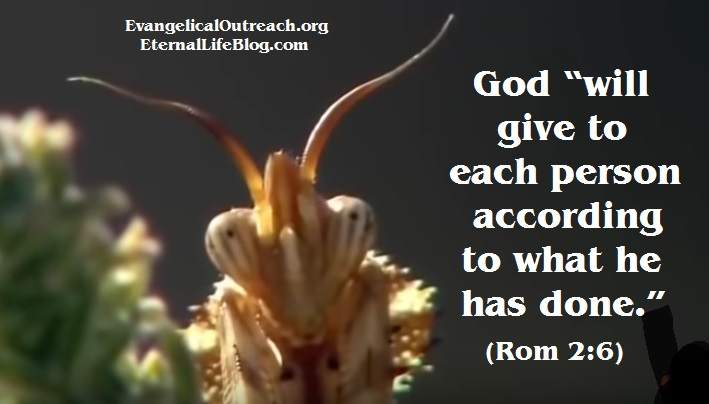 How often we have been taught by today's popular "Bible" teachers that our deeds are not important for salvation, as the same teachers stress faith in Jesus for eternal life. The uninformed listener concludes his behavior (even sinful behavior) is inconsequential, especially since Jesus' death on the cross. The popular teachers have thrown the word grace around like it is the catch-all remedy for "sinful" behavior, especially if one has been previously saved. The word of God gives a totally different report, which should cause many professing Christians to tremble in their shoes! Here are the eternal facts:
And that you, O Lord, are loving. Surely you will reward each person according to what he has done. (Psa 62:12)
If you say, "But we knew nothing about this," does not he who weighs the heart perceive it? Does not he who guards your life know it? Will he not repay each person according to what he has done? (Prov 24:12)
For the Son of Man is going to come in his Father's glory with his angels, and then he will reward each person according to what he has done. (Mat 16:27)
God "will give to each person according to what he has done." (Rom 2:6)
Behold, I am coming soon! My reward is with me, and I will give to everyone according to what he has done. (Rev 22:12)
The typical churchgoer is probably thinking that deeds are important only for rewards and that is how those verses should all be understood. Is that really what they are saying? The Rom. 2:6,7 passage is most clear and shouts out the answer – NO!
God "will give to each person according to what he has done." To those who by persistence in doing good seek glory, honor and immortality, he will give eternal life. (Rom 2:6,7)
The words eternal life clearly make the subject salvation, not rewards! As the Bible teaches elsewhere (especially in James 2), we see it again that a saving faith in Jesus has good works (good deeds) with it. If not, it is only the faith of demons. Therefore, what we DO is vitally connected to both salvation and rewards and not just rewards alone! To disconnect saving faith and behavior for salvation under grace is a glaring DEADLY error!
Do not be deceived: God cannot be mocked. A man reaps what he sows. The one who sows to please his sinful nature, from that nature will reap destruction; the one who sows to please the Spirit, from the Spirit will reap eternal life. Let us not become weary in doing good, for at the proper time we will reap a harvest if we do not give up. (Gal 6:7-9)
Please note that Rom. 2:6,7 and Gal. 6:7-9 did not originate with me. They are NOT my teachings. They are the teachings of the Apostle Paul, who was communicating God's truth to others. Remember, YOUR future is being determined now based on what you do (and according to what you have done). Don't be deceived.