In our day of rampant destructive false teachings, among the top of the list in bible-believing circles is the demonic teaching of eternal security also called Once saved always saved.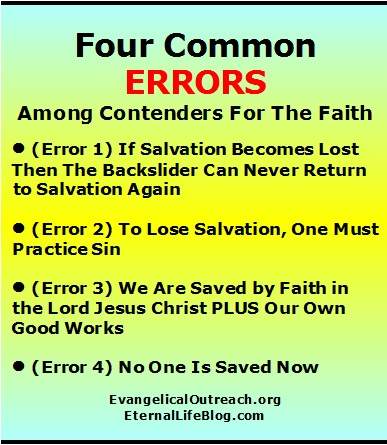 It is vitally important that Christians vigorously contend against the many dangerous grace changers who have slithered their way into spiritual leadership. If you have been battling for the real gospel with its conditional security for the believer in Christ (1 Cor. 15:2; Col. 1:23), please keep it up, but avoid the following errors.
Again, several grievous errors have crept into our own camp who correctly know that we must endure to the end for salvation (Mt. 10:22; Heb. 3:14; Rev. 2:10,11; Rom. 11:20-22; Gal. 6:8,9) and that a righteous person can indeed die spiritually (Ezek. 33:18; Rom. 6:16; 8:12,13; James 1:14-16; 5:19,20; etc.). For your own sake and for the sake of others, be aware of the following errors and adjust your beliefs if need be:
(Error 1) If Salvation Becomes Lost Then The Backslider Can Never Return to Salvation Again
That errant view is also called sometimes "twice lost always lost" and is another demonic teaching. Sadly, far too many backsliders have been needlessly tortured in their mind thinking God will never forgive them and take them back even with heart-felt repentance. Hence, such backsliders are in deep despair wrongly thinking they are irreconcilably doomed to be thrown into the lake of fire in the end! Oh, how the devil (the father of lies) loves to torture people with that.
The primary passage misunderstood for that is Hebrews 6:4-6, which only refers to those who committed eternal sin and couldn't be renewed again through repentance. In other words, all other sins can be forgiven upon repentance (Mark 3:28,29), including sexual sins, drunkenness, witchcraft, idolatry, lying, theft, murder, etc. (1 Cor. 6:11).
When one focuses upon King David's sins, it becomes apparent that those who embrace "once lost always lost" are teaching a license to sin! How? Because they believe David is in heaven now and therefore must say King David retained his salvation even when in adultery and murder and before he repented. In other words, they are really saying there are Christian adulterers, Christian murderers, Christian drunks, Christian thieves, Christian liars, etc. That is essentially the same license to sin that the eternal security teachers spread to the devil's delight.
(Error 2) To Lose Salvation, One Must Practice Sin
In other words, that is the belief that one sin (or occasional sin) will not cause spiritual death. That too is a license to sin which has crept in among us who reject the poison of eternal security. Such advocates believe it takes a practice, lifestyle or habitual sin in order to lose salvation. Hence, such people think occasional acts of adultery, drunkenness, theft, homosexuality, murder, etc. will not cause loss of salvation! Imagine that! That is refuted by scripture which shows it only takes one act of adultery to be a bible-defined adulterer (Lev. 20:10), one act of murder to be a bible-defined murderer (Num. 35:16-18), one act of theft to be a bible-defined thief (Ex. 22:7,8), etc. That fact connected with the following passage is the deathblow to the "one must practice sin to become lost".
Or do you not know that the unrighteous will not inherit the kingdom of God? Do not be deceived; neither fornicators, nor idolaters, nor adulterers, nor effeminate, nor homosexuals, nor thieves, nor the covetous, nor drunkards, nor revilers, nor swindlers, will inherit the kingdom of God. Such were some of you; but you were washed, but you were sanctified, but you were justified in the name of the Lord Jesus Christ and in the Spirit of our God ( 1Cor. 6:9-11, NASB).
Clearly, Christian grace teaching states people in such sin, also identified as unrighteous, will not inherit God's kingdom – meaning that they are lost at that point.
Furthermore, disowning the Lord Jesus will cause Jesus to disown you (Mt. 10:33; 2 Tim. 2:12b), the very thing that Peter did three times (Mt. 26:69-75). [Peter afterwards repented and returned to salvation – Lk. 22:32b.] Moreover, all who take the mark of the beast, because of that single act of disobedience, will be eternally lost forever (Rev. 14:9-12).
Believing certain false doctrines and or preaching a false gospel will also condemn one (Gal. 1:8,9 cf. 1 Cor. 15:2; 2 Pet. 2:1; 2 Tim. 2:18; 1 John 2:24-26), which can happen to people who were previously saved (Gal. 5:2-4; 1 Tim. 1:5,6; 2 Tim. 2:18). Sinning therefore isn't the only way to lose your salvation. One can fall away quickly (Mark 4:17).
(Error 3) We Are Saved by Faith in the Lord Jesus Christ PLUS Our Own Good Works
The basis of this error comes from a lack of understanding about saving faith in Jesus Christ. Scripture shows that a saving and living faith in the Lord Jesus Christ follows him and obeys God, that is, it has good works attached to it. On the other hand, if someone has a dead faith (also called the faith of demons) in Jesus, good works might be lacking (James 2:14-20). However, the islanders on Malta were very kind to Paul when he was shipwrecked (Acts 28:2) and Cornelius was devout, God-fearing, a generous giver to the poor and prayed to God regularly even though both examples were lost! Some evil doers confess Jesus as "Lord," prophesy in Jesus' name, drive out demons and perform miracles (Mt. 7:21-23). Even demons can confess Jesus as the son of God (Mk. 3:11,12), the holy one of God (Lk. 4:33,34) and the son of the Most High God (Lk. 8:28).
Jesus must be the focus of our OBEDIENT faith for salvation. That is what it means to "believe" on Jesus for salvation (Jn. 3:16-18; Acts 16:30,31; etc.) – we trust Jesus with our faith to the point of following and obeying him (Jn. 3:36; etc.). Those truths must all be considered when examining James 2:24 and the following passages:
To those who by persistence in doing good seek glory, honor and immortality, he will give eternal life (Rom. 2:7).

The one who sows to please his sinful nature, from that nature will reap destruction; the one who sows to please the Spirit, from the Spirit will reap eternal life. Let us not become weary in doing good, for at the proper time we will reap a harvest if we do not give up (Gal. 6:8,9).
We must persist and continue to the end with our obedient faith in Jesus to reap eternal life. Remember also this comparison: in Jn. 3:18, the Lord only mentioned faith in Jesus or unbelief as the basis of salvation or not, but in Jn. 5:29 the Lord only mentioned doing good or evil as the basis of the type of resurrection awaiting one:
Whoever believes in him is not condemned, but whoever does not believe stands condemned already because he has not believed in the name of God's one and only Son (John 3:18).

Those who have done good will rise to live, and those who have done evil will rise to be condemned (John 5:29).
Jn. 3:18 and Jn. 5:29 supplement each other and again show that a saving faith in Jesus does good works.
Folks, please understand if your submissive faith in the Lord Jesus and his blood can't cleanse and save you, forget it! Your puny good works, regardless how great and abundant, will not save you or add to what Jesus has already done. A saving and living faith in the Lord Jesus obeys God, producing holy living. We must continue with that type of submissive faith in Jesus in order to reap eternal life.
(Error 4) No One Is Saved Now
To believe no one is saved now (but only on probation) is demolished by the various scriptures, which show a Christian has (present tense) salvation now – this side of the grave. When one becomes 'born again' by turning to God in repentance and having faith in the Lord Jesus Christ, he instantly has, at that point, eternal life and becomes a child of God:
He who has the Son has life; he who does not have the Son of God does not have life. I write these things to you who believe in the name of the Son of God so that you may know that you have eternal life (1 John 5:12,13).

I tell you the truth, he who believes has everlasting life (John 6:47).

How great is the love the Father has lavished on us, that we should be called children of God! And that is what we are! The reason the world does not know us is that it did not know him. Dear friends, now we are children of God, and what we will be has not yet been made known. But we know that when he appears, we shall be like him, for we shall see him as he is (1 John 3:1,2).
Remember also the repentant thief (Lk. 23:42,43), Cornelius (Acts 10:43-48), Zacchaeus (Lk. 19:9), the unnamed sinful woman (Lk. 7:50) and others who were all saved instantly as shown by being qualified for Paradise, being filled with the Holy Spirit, declared saved, etc. A primary scripture stumbling some about this truth, besides Gal. 6:8,9, is:
All men will hate you because of me, but he who stands firm to the end will be saved (Mt. 10:22).
The words "will be saved" in that verse refer to final salvation, that is, an actual entrance into God's Paradise kingdom after death, also referred to in Lk. 13:23,24. The truth is: Christians have salvation now, but must endure the persecutions of living godly to the very end for final salvation (Mt. 10:22 cf. 2 Tim. 3:12), that is, to actually enter God's paradise kingdom. We must die with a PURE HEART to see God (Mt. 5:8; Rev. 21:27 cf. 1 Tim. 5:22).
Eternal life is much more than just the gift of God (Rom. 6:23) and a present tense possession (Jn. 6:47; 1 Jn. 5:11-13). Eternal life is also a hope (Titus 3:7) yet to be reaped (Gal. 6:8,9), in the age to come (Mk. 10:30) for only the ones who persist in doing good (Rom. 2:7) and who don't grow weary and give up sowing to please the Spirit (Gal. 6:9)! Eternal life is also a promise for the Christians who hold on to the gospel truth they heard from the beginning to remain in Christ and the Father (1 Jn. 2:24-26).
Without question the heresy of eternal security is a demonic teaching and has no connection with saving grace, the gospel or the infinite work of Christ. A true Christian after initial salvation and being set free from his sin addictions (Rom. 6:22; Jn. 8:34-36; etc.) must continue in the faith (Rom. 11:21,22) and physically die with a pure heart to enter Paradise, which doesn't always happen. Sadly, some have turned away from God and die lost! You are battling for E-T-E-R-N-I-T-Y. KEEP FIGHTING – the devil surely is!