What is the real definition of hate speech? Though the definition of hate speech can vary from secular source to secular source, we can learn what hate speech definitely is not from the Bible, God's only reliable source of spiritual truth.
What Hate Speech is NOT
When we consider that the Biblical record shows God's true spokesmen (apostles, prophets, evangelists, etc.) spoke God's word and were hated for faithfully speaking eternal truth, that should help us realize how things have been twisted out of proportion and mislabeled. The hate crime has been committed against Christians by those who persecute them. Christians have been shown hate for love, which is not known by non Christians, who are slaves of sin.
Jesus Didn't Have Hate Speech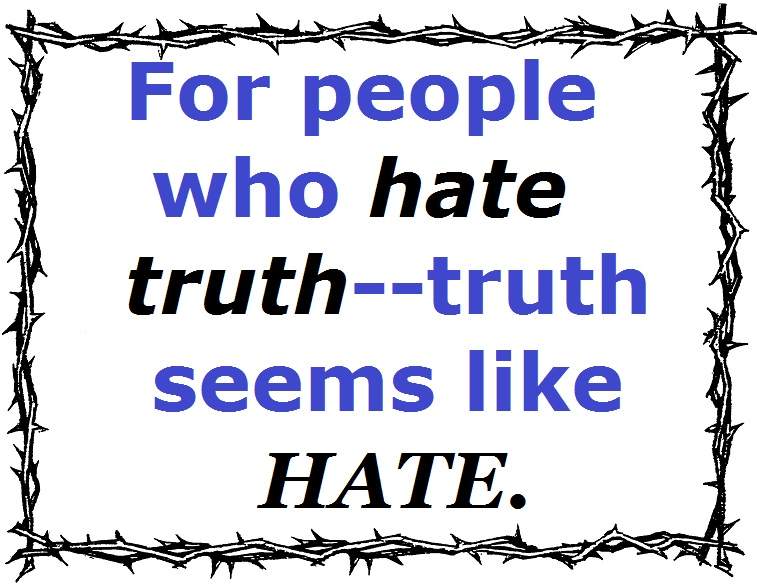 It is unthinkable that any professing Christian would accuse God in the flesh (Jesus of Nazareth) of ever being guilty of a hate speech crime, but in our day of injustice, some would probably consider such a ludicrous misjudgment by present standards!  Why? Because as the Lord spoke words of eternal life, he offended ( Mt. 15:12) and angered (Mk. 3:5) people. They became furious (Lk. 4:28; 6:11) with Jesus, even to the point of sneering at him (Lk. 16:14; 23:35) and conspiring to kill him (Mk. 3:6), not because he sinned in any way against them. They hated Jesus because he testified that what they do is evil (John 7:7). Persecution came because they themselves hated truth and were cut to the heart by spiritual reality, which Jesus gave them in love. To their darkened and sin loving hearts those precious words of eternal life hurt and might have seemed like hate speech, but it was love trying to help them with their greatest need, the salvation of their soul.
John The Baptist Wasn't Guilty of Hate Speech
Besides Jesus, John the Baptist was intensely hated for denouncing sin, especially the adulterous remarriage of Herodius (Mk. 6:17-28). Instead of Herodius changing for her own good, she wanted to put the preacher to death, and finally succeeded, but it didn't lessen her adultery. The same can be said for all of the Christian martyrs who died prematurely at the hands of the wicked.
Bible Truth is Never Hate Speech
If it is from the Bible it is not hate speech. God's servants are commanded to speak Bible truths to the lost regardless, if they be homosexuals, alcoholics, pornography addicts, idolaters, Catholics or whomever. When the sword of the spirit (Eph. 6:17) meets sin and deception something will happen. In the person's heart, it is truth clashing with darkness and one will be tossed aside. If the heart of the hearer is on the side of truth, he will accept it and wisely change his behavior for his own soul's sake. If he refuses to repent, he will react adversely to his own injury and foolishly vent his disdain on the giver of truth. Again, hate speech as it is called in our day is impossible, if it comes from the Bible, even if people get offended by God's word. The obedience of speaking God's word for a specific spiritual need is never hate speech, as far as God is concerned and it is wrong to judge it as hate speech.