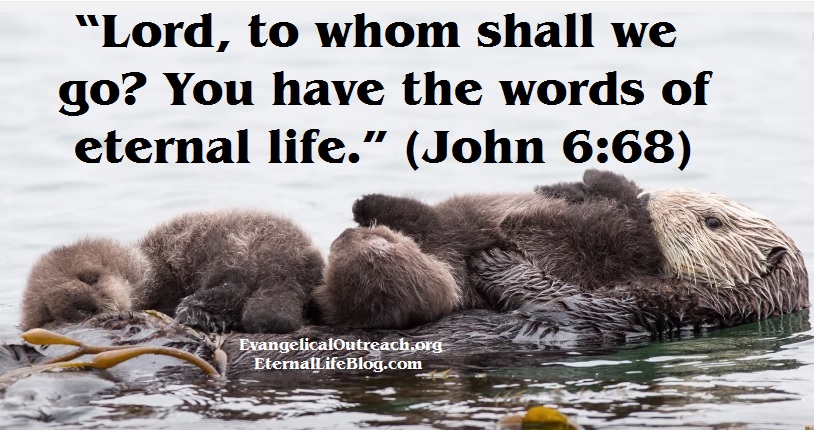 There have been many religious leaders over the millennia, but only one ever had the impeccable and awe-inspiring credentials and could produce the results, which the Lord Jesus did and has. Because Jesus is the sinless Son of God and God in the flesh, who resurrected bodily, he brightly outshines all of the others who died and their bodies rotted in the grave.
Besides that, all the other religious leaders spoke empty words as they tried to help people with their sins and immorality. The various sincere devotees of the many false religions remained slaves to sin, because they were misled by some false teacher. But it was and is different for the followers of the Lord Jesus Christ. Why? Because Jesus has the words of eternal life. Peter knew that and acknowledged it openly:
Simon Peter answered him, "Lord, to whom shall we go? You have the words of eternal life." (John 6:68)
So what words would that refer to? Many times Jesus pointed people to himself for eternal life (Mk. 8:35; Jn. 5:39,40; Jn. 6:35; etc.). He told people to repent and leave their life of sin (Lk. 13:3,5; Mk. 1:15; Jn. 8:11). He repeatedly warned of the dangers of hell because of sin (Mt. 5:28-32; Mt. 13:41,42; Mk. 9:42-47; etc.). He also told his disciples to be on guard (Mk. 13:9, 23, 33; ), hold on (Rev. 2:25; 3:11), watch out so we would not be deceived (Mt. 24:11, 24; etc.) and stated we would have to endure to the end to be saved (Mt. 10:22; Mk. 13:13; Rev. 2:10,11; etc.).
Even though Jesus spoke the precious words of eternal life, only the ones who wisely follow his directives get forgiven and keep their salvation. They alone have a new heart of love. They alone are slaves of righteousness. They alone are like the ones who put into practice his word and are likened to the man who built his house on rock (Mt. 7:24). Dear reader, can you identify with such words of eternal life?