Our world is filled with deceptions, especially of the man-made religious type. Of that large group of deceptions, certainly infant baptism or baby baptism is at the top of the list since both Catholic and Protestant groups are involved in that grand deception!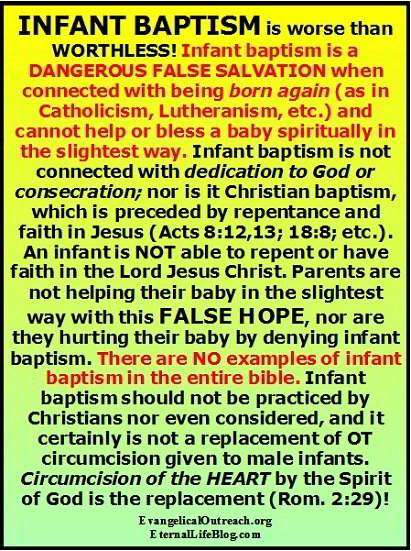 The so-called Christian denominations that practice infant baptism include:
That comprises a significant percentage of the world's population. This means NEARLY 2 BILLION people are being MISLED to some extent by this religious snare known as infant baptism! That is a very substantial number of SOULS, sadly showing the devil has gotten a major victory in deceiving people with infant baptism.
[The image on this page is a PDF and made printable for you to help others escape this snare! Just click on the image to print it out FREE of charge. You can also go to FREE GOSPEL TRACTS and find it, as well as a large number of others on various important subjects and groups.]
IF you know someone who believes in infant baptism, pass the information on to him/her that is found on Infant Baptism – Is It Christian.
Remember, IF you are not set free from your sin addictions NOW, you are NOT a Christian NOW (Rom. 6:22 cf. 2 Peter 2:20-22)! God bless you.