A surprising detail about the devil is, he can actually quote Scripture! He did that when he tempted Jesus! Imagine that! The evil one, who hates God's word and steals it away from some (Mt. 13:19), will also quote Scripture to tempt, if necessary: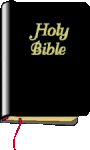 Then the devil took him [Jesus] to the holy city and had him stand on the highest point of the temple. "If you are the Son of God," he said, "throw yourself down. For it is written: 'He will command his angels concerning you, and they will lift you up in their hands, so that you will not strike your foot against a stone.'" Jesus answered him, "'It is also written: 'Do not put the Lord your God to the test.'" (Mat 4:5-7)
Jesus' words, "It is also written" need to be remembered by the righteous for there are many who, like the devil, will misuse Scripture to try to influence us! The devil quoted Psa. 91:11,12, but misapplied it! When Jesus said, "It is also written" he quoted another Scripture, which showed he would be testing God to deliberately throw himself down from the top of the temple. That is very important to remember. We need all the related Bible truth on any given subject, before we can accurately make a sound conclusion. To walk in a more spiritually guarded manner, we need to be aware of the it is also written example the Lord Jesus gave! There are too many who are swayed in the wrong direction, because they hear a Scripture misapplied. Folks, there are many lethal doctrines, which claim support from the Scriptures, but they are misapplied somehow!
One glaring example is the way the Jehovah's Witnesses stress the humanity of Christ, as they endeavor to disprove the deity of Christ. What they do is magnify the former and avoid or try to explain away the latter! Since the Lord Jesus is both God and man, a Christian could say to them, "It is also written," then give an argument and Scripture for his deity. The fact of the humanity of Christ doesn't nullify the fact of the deity of Christ. Jesus is both God and man.
Another example is how Roman Catholics cite 2 Thess. 2:15 for their traditions, which they equally exalt in authority to the Scriptures:
So then, brothers, stand firm and hold to the teachings we passed on to you, whether by word of mouth or by letter.
They seem oblivious to the fact that the burden of proof is on them and they can't prove the traditions referred to by Paul are the same ones they are embracing, while they also ignore 2 Tim. 3:16,17, which state Scripture alone is final authority. So the Christian should say to a Catholic, "It is also written" as he/she would quote an appropriate Scripture on salvation, Mary, prayer, bowing before graven images, etc. Following Jesus' example to say, it is also written is very important, as we test everything and hold on to the good (1 Thess. 5:21).