Recently the current pope said on Vatican radio that atheists can do good and go to heaven too!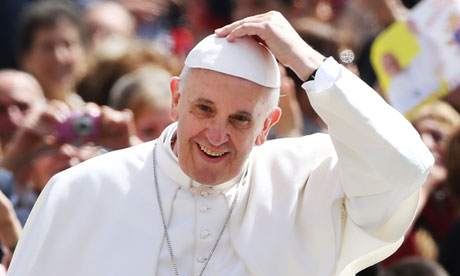 Pope Francis added that atheists who are good are redeemed by Jesus! What an open and shocking display of Biblical ignorance the present Pontiff possesses. Furthermore, his statement is highly contradictory to Catholicism before Vatican Council II and especially Catholicism's Council of Trent, which was reaffirmed by Vatican Council II. According to the Bible, the only ones redeemed by the blood of Jesus have also been born again, which takes a saving faith in the Lord Jesus:
For you know that it was not with perishable things such as silver or gold that you were redeemed from the empty way of life handed down to you from your forefathers, but with the precious blood of Christ, a lamb without blemish or defect …. For you have been born again, not of perishable seed, but of imperishable, through the living and enduring word of God. (1 Pet 1:18,19,23)
NOTE: Though Catholicism teaches that Peter was the first pope, the above Scriptural citation from Peter is not even similar to what Pope Francis teaches! Moreover, since atheists don't have any faith in the Lord Jesus at all, it is therefore absolutely Biblically impossible for them to be redeemed in their present unbelief:
Whoever believes in him [Jesus] is not condemned, but whoever does not believe stands condemned already because he has not believed in the name of God's one and only Son. (John 3:18)

But the cowardly, the unbelieving, the vile, the murderers, the sexually immoral, those who practice magic arts, the idolaters and all liars—their place will be in the fiery lake of burning sulfur. This is the second death. (Rev 21:8)
All atheists also deny the very doctrines which Catholicism's Council of Trent states one must believe to have salvation! Trent dogmatically places their misdirected anathemas on all non-Catholics, including atheists and even Bible-defined Christians! Pope Francis is not a very good Catholic, nor is he Biblical!  If you are a Catholic, leave such a false religious system ASAP for your own good. Let the message of the New Testament guide your beliefs and doctrines.  The Bible is final authority.
Photograph: Franco Origlia/Getty Images