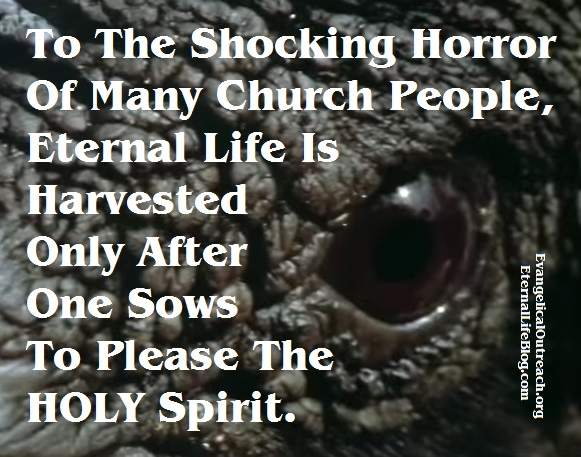 It is common knowledge that we all reap what we sow. Even a novice gardener knows that. A farmer especially knows if he sows corn in the field, he will reap corn and not wheat or barley. One's harvest depends on what he plants. What about eternal life? Is it different for salvation? How do we harvest eternal life, if we have to harvest it at all? Is eternal life just given to us under grace with no bearing on how we live (sow)? To the shocking horror of many church people, eternal life is harvested only after one sows to please the HOLY Spirit. So, spiritually under GRACE, we reap (or harvest) what we spiritually sow, according to the Apostle Paul:
Do not be deceived: God cannot be mocked. A man reaps what he sows. The one who sows to please his sinful nature, from that nature will reap destruction; the one who sows to please the Spirit, from the Spirit will reap eternal life. Let us not become weary in doing good, for at the proper time we will reap a harvest if we do not give up. Therefore, as we have opportunity, let us do good to all people, especially to those who belong to the family of believers. (Gal 6:7-10)
If you could reap eternal life by sowing to please your flesh you would be mocking God, but he won't be mocked! It won't happen. You will reap fiery torment instead.
Gal. 6:7-10 should be known just as well as we know John 3:16, for it too applies to salvation. The problem of those verses being readily known is compounded by too few reading their Bibles plus all the false teachers who are presenting eternal life and grace in a totally different way, to the detriment of their listeners! For example, Charles Stanley, the chief once saved always saved teacher in our day, teaches that Gal 6:7-9 refers to rewards and confuses the issue by doing so! Folks, read Gal 6:8 for yourself out of your own Bible. It is not referring to anything other than reaping eternal life or the opposite, which is destruction (spiritual death and the lake of fire). Eternal life is salvation not rewards. Remember Gal 6:8 is a SALVATION passage, not a rewards passage, and your potential harvest of eternal life depends on how you sow now. All of that is part of Paul's grace message, not legalism or a works salvation, just like this verse:
But now that you have been set free from sin and have become slaves to God, the benefit you reap leads to holiness, and the result is eternal life. (Rom 6:22)
For much more information, go to Evangelical Outreach for the book, The Believer's Conditional Security. God bless you.