Yao Defen, the world's tallest woman, recently died at the age of 40. She was 7 feet and 7 inches tall, weighed 440 pounds and was from China. Years ago she said: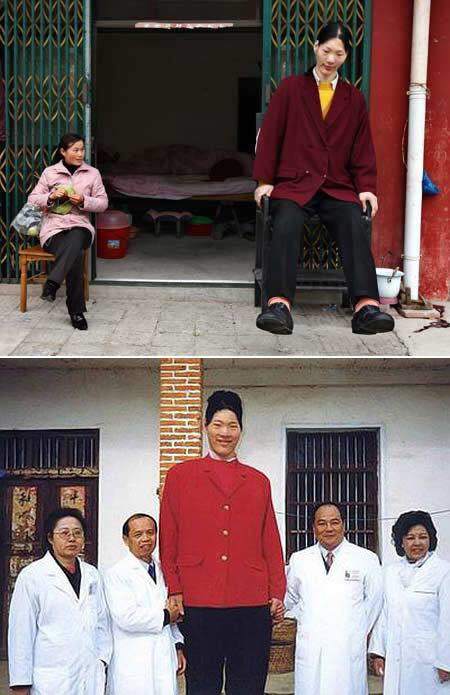 "I am very unhappy. Why am I this tall?" she said from her bed. "If I were not this tall, others would not look at me like this." (http://news.yahoo.com/worlds-tallest-woman-dies-china-age-39-122620727.html)
She had a tumor on her pituitary gland which affected her height. Though she was gigantic in size, she must have been small compared to the Nephilim, which once roamed the earth both before and after the flood in Noah's day! The Nephilim were not tall because of a physical defect in the pituitary gland, but because the sons of God (maybe fallen angels) cohabited with the daughters of man (Gen. 6:4)! The details are a true Bible mystery.
King Og, One of the World's Tallest
The largest measurement of a person's height in the Bible was King Og, of Bashan. He could have been the world's tallest in his day. He slept on an iron bed over 13 feet long and 6 feet wide (Deut.3:11). He probably was about the height of the Nephilim. If he was just 12 feet tall, imagine how much he weighed, especially in light of Yao Defen who weighed 440 pounds and was 7 feet and 7 inches tall! Og easily might have weighed 1,000 pounds or more! He was even taller than Goliath, whom David killed as a boy in battle. Goliath, another of the world's tallest, was over 9 feet tall (1 Sam. 17:4).
The World's Tallest Didn't Want To Be Different
Getting back to Yao Defen, she didn't want to be an odd ball. Being different in a godly way (not physical way) and being persecuted because of it, however, is the typical Christian life. That kind of difference and pressure (mild persecution) from others have caused many of the redeemed to draw back to perdition after receiving the gift of eternal life. To be worthy of Jesus and his Paradise kingdom you must be willing to be different, which will bring on unwanted looks, comments and sometimes much worse from the sinners who know your first love is Jesus. You must endure hatred to the end to be saved (Mt. 10:22). You must continue in God's kindness. Otherwise, you will be cut off. (Rom 11:22) Are you different in a godly way NOW?