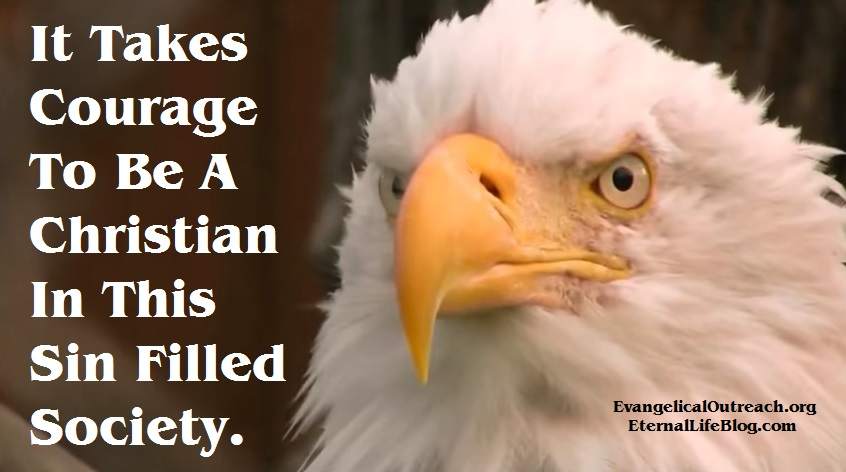 The devil is a master at deception. He can make things seem right when they are wrong, true when they are false and saintly when they are unholy. He has many professing Christians thinking a Christian is a sinner, who could never lose his salvation, when a Christian is really a righteous person who can lose his salvation.
The devil has some unbelievers, especially men, thinking Christianity is for the weak and cowardly, when the opposite is true. The fact is, it takes courage to be a Christian in this sin filled society. To be unjustly hated and persecuted while remaining faithful doesn't come easy or automatic. It takes courage among other things. To stand true in the face of danger, especially when you are outnumbered, isn't something a coward can do. Courage can be defined as acting the right way when fear could easily take over, especially during persecution for righteousness's sake.
Anyone thinking properly, should be able to see that God's prophets, who stood alone before wicked kings and openly reported their sins and wrong decisions, were courageous. John the Baptist issued a bold public denunciation of an adulterous king, which later cost him his life. He was courageous, as well as protecting himself from the king's blood by warning him. No coward could act like that.
I like to challenge people who think Christianity is for cowards to try it and see! Such deceived people are so faithless and cowardly they won't even start the race following Jesus to go against the flow of unsaved family, friends, neighbors and co-workers. Anyone can blend in with the majority, but it takes faith in Jesus and courage to stand alone and live holy to reap eternal life (Gal. 6:8). Courage is a must for a Christian:
I eagerly expect and hope that I will in no way be ashamed, but will have sufficient courage so that now as always Christ will be exalted in my body, whether by life or by death. (Phil 1:20)
But Christ is faithful as a son over God's house. And we are his house, if we hold on to our courage and the hope of which we boast. (Heb 3:6)
Be on your guard; stand firm in the faith; be men of courage; be strong. (1 Cor 16:13)
The opposite of the courageous are the cowardly:
But the cowardly, the unbelieving, the vile, the murderers, the sexually immoral, those who practice magic arts, the idolaters and all liars–their place will be in the fiery lake of burning sulfur. This is the second death. (Rev 21:8)
MAKE A NOTE OF THIS: It takes courage to be a Christian. It's the cowardly who aren't courageous. Do you have the faith and courage to walk with Jesus as an overcomer that is needed to escape the fiery lake of burning sulfur?