Like John the Baptist, Samuel had a miraculous birth.  Samuel was born because of his mother's heart felt prayers and the vow she made to God for a son (1 Sam. 1:10,11). Just after Hannah weaned her baby, as young as he was, she took him to the house of the LORD (1 Sam. 1:24) — the tabernacle or tent of meeting– for his whole life to be given over to the LORD (1 Sam 1:28).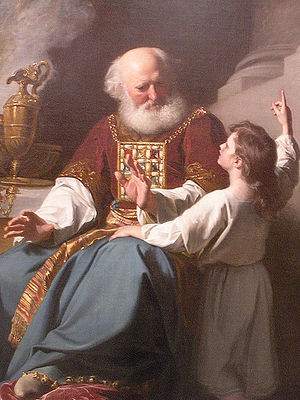 In that environment, and away from his natural family, the boy Samuel had only wicked and spiritually tainted examples around him continuously (1 Sam. 2:29,30; 2:22; etc.)! Though he was raised in such a terrible spiritual environment example-wise, he stood all alone and like a rock for God's truth and obedience. Though not clearly mentioned in scripture, Hannah's prayers were surely with Samuel and had a great impact on his faithfulness.
Tested Before Eli
Eli was the chief character in the boy Samuel's life at the tabernacle. The first time the word of God came to Samuel, as it does to prophets, Eli helped Samuel to recognize it (1 Sam. 3:4-9). In the morning, Eli wanted to know what God told him. The boy Samuel gave him the truth, even though it foretold Eli's demise (1 Sam. 3:11-19)! Imagine how easy it would have been for Samuel to compromise, but he didn't. He was faithful, exemplary and stood alone, regardless the unknown consequences of speaking the God's truth. He was unlike many preachers in our day. Many would buckle out of fear of losing the favor of someone like Eli, but Samuel didn't! Samuel was God's servant, a man of godly character, and the truth went forth from him.
Samuel Remained True To God
While it is most impressive for the boy Samuel to stand strong like he did, his faithfulness to God, holy character and righteous standing never changed as he grew old, unlike Solomon's heart. Samuel was a mighty example of the faith, but not many would recognize him as such in our day! He never sought for material riches or popularity. He was simply faithful, but had to stand alone to maintain such. Even his children were ungodly, unfortunately. Samuel's uncompromising commitment to God was a vital blessing to all of Israel in his day. After he died, they suffered great loss because such a man of God was gone! We need more like Samuel in our day.