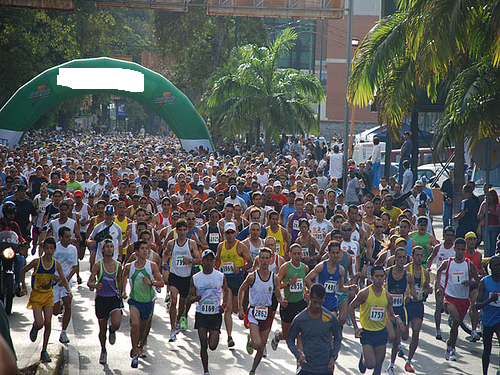 The Christian life is likened unto various kinds of situations. One is like a looong distance race, which requires endurance or perseverance to finish the race! It is not a sprint, but a marathon run! Moreover, one saint has one type of race and a different godly person, with a dissimilar background and circumstances, has a totally different race, yet there are similarities! Our spiritual race is mentioned here:
Therefore, since we are surrounded by such a great cloud of witnesses, let us throw off everything that hinders and the sin that so easily entangles, and let us run with perseverance the race marked out for us. (Heb 12:1)
Examples of Biblical characters who had totally different races marked out for them are: King Solomon and the prophet Jeremiah. Solomon was born with the proverbial silver spoon in his mouth and lived almost his entire life in luxury as a respected super wealthy sage and monarch with hundreds of wives and servants! The prophet Jeremiah, on the other hand, was a man who was given a gloom and doom message to declare to people, who wouldn't receive it and who persecuted him. Another book Jeremiah wrote is the book of Lamentations. He was known as the weeping prophet, suggesting the various sorrows he experienced!
Each of those men, though coming from very different sets of circumstances, were both charged with being faithful to God in their unique circumstances, with the daily pressures and unique temptations. Furthermore, both Solomon and Jeremiah would have temptations the other one would never know anything about, due to their respected offices and responsibilities. The contrast is similar to a pastor having the selfish temptation to withhold God's eternal truths because it might upset some parishioners to a Christian housewife cooking and cleaning her house.
Regardless who you are as a Christian, to successfully run your own personal spiritual race means to cross the finish line and reap eternal life. That will require serious effort on your part, including resisting the devil, keeping yourself pure, staying alert for spiritual deceptions, bearing fruit, forgiving others, etc. That requires throwing off everything that hinders and the sin that so easily entangles. Negligence there leads to the reason why some backslide (get back on the road to hell). Sin is nothing to play with and is still the issue with God! It easily entangles one in his spiritual race. Obviously, if one gets entangled with the cords of sin (Prov. 5:22), he will not be able to finish his personal race. Such would be disastrous and is what happened to King Solomon! Solomon held fast in love to his idolatrous wives, who led him into idolatry and death. The death was spiritual death and his pagan wives were enemies in disguise as far as how they were used to ruin his relationship with God and destroyed his SOUL. Solomon's wives and love for him were the means of lethal subtle sinful temptation. Christian singles can face temptations like that if not careful.
Jeremiah was heavily tempted with discouragement and fears. He was also very lonely. The end of his life is not as clear as it was with Solomon. If Jeremiah ended his life as a righteous person, he entered God's holy presence and all his miseries and sufferings are over. If that is the case, you can expect to meet him one day in God's kingdom, that is, as long as you stand firm and die with a pure heart (Mt. 5:8). Keep eternity in mind. Remember Rev. 2:10,11. Run your race with perseverance.