As strange as it may sound in our apostate day, according to Scripture, a Christian is NOT a sinner saved by grace! YES, he is saved by grace. YES, he was a sinner, before salvation. However, since the point of becoming a new creation in Christ he is NOW a righteous person and no longer a sinner! [In fact, he is also called terms which show his holy devotion to Christ such as a saint (Rom. 15:26; 16:15; 2 Cor. 1:1; 13:13; Eph. 1:1; etc.).]
Definition of a Sinner
The definition of a sinner, according to the Bible, is one who is on the road to hell, bound and enslaved by the cords of sin (Rom. 6:)!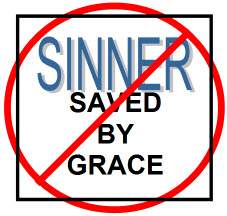 This important difference between the term sinner and the righteous (saints) is easily shown when examining contrasting terms. Luke 15:7 and 1 Pet. 4:18 are clear. Respectively, they read:
I tell you that in the same way there will be more rejoicing in heaven over one sinner who repents than over ninety-nine righteous persons who do not need to repent.
And, "If it is hard for the righteous to be saved, what will become of the ungodly and the sinner?"
It is also crystal clear that it is only the righteous who inherit God's kingdom, not the unrighteous (or sinners):
Or do you not know that the unrighteous will not inherit the kingdom of God? Do not be deceived; neither fornicators, nor idolaters, nor adulterers, nor effeminate, nor homosexuals, nor thieves, nor the covetous, nor drunkards, nor revilers, nor swindlers, will inherit the kingdom of God (1 Cor. 6:9,10, NASB).
But all sinners will be destroyed; the future of the wicked will be cut off.  (Psa 37:38)
To call a blood-bought, blood-redeemed slave of righteousness (Rom. 6:18) and follower of JESUS (Jn. 10:27) a sinner is to distort and smear the holy image of being a Christian, but such a demonic distortion fits perfectly with the heretical doctrine of eternal security! Why? Because eternal security doctrine implies there are Christian adulterers, Christian drunks, Christian thieves, Christian liars, etc. To them the backsliding are still saved while in the vilest of unrepentant sin. That is a violent affront and attack to basic Bible Christian beliefs!
A Christian is Righteous – NOT a Sinner Saved By Grace
Again, a Christian is righteous, and has eternal life and eternal salvation by OBEYING JESUS (Heb. 5:9). He definitely is NOT a sinner saved by grace. In fact, the phrase sinner saved by grace is Biblically impossible in even another way! A sinner can be saved, but is NOT saved while in unrepentant sin.
People tend to retort, we all sin and Jesus was the only sinless one. TRUE, but there are different degrees of sin (1 John 5:16,17)! To say sin is sin, meaning all sins are of the same degree, is also NOT a Christian teaching! There is sin which is NOT sin unto death (1 John 5:16,17)! For a Christian to be in worry and/or not be completely humble and gentle is sin but NOT sin that leads to death as would place him back on the road to hell and make him a sinner again as we read here:
My brothers, if anyone among you wanders from the truth and someone brings him back, let him know that whoever brings back a sinner from his wandering will save his soul from death and will cover a multitude of sins. (James 5:19,20, ESV)
To say a Christian is a sinner saved by grace is highly misleading according to the above and should not be used by Christians. Do you know Jesus NOW?