IF you are moved by evidence, the following facts will prove that Ray Comfort of Living Waters Ministry is an eternal security teacher, which doesn't seem to be readily known!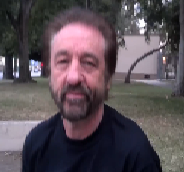 That means that he is DANGEROUS and does NOT understand salvation, the lethal power of sin for a Christian, human responsibility, backsliding, grace, etc. He is NOT more sound, though he stresses evangelism.
Eternal Security
As Comfort spoke against follow up of new converts in his famous Hell's Best Kept Secret audio, he explicitly revealed himself as a once saved always saved proponent, which he seems to want to conceal at certain times with certain people! Ray Comfort believes:
What it [follow up] is, is a sad admission to the amount of confidence we have in the power of our message and in the keeping power of God. If God has saved them, God will keep them. If they're born of God, they'll never die. If he's begun a good work in them, he'll complete it to that day. If he's the author of their faith, he'll be the finisher of their faith. He's able to save to the uttermost them that come to God by him. He's able to keep them from falling, present them faultless before the presence of his glory with exceeding joy. Jesus said no one will pluck you from my father's hand. (Hell's Best Kept Secret, original version)
FYI, the apostle Paul went on three missionary journeys. The second and third missionary journeys were follow up on his converts from before! Paul viewed the importance of follow up and the possibility of lethally backsliding and spiritual death among true converts much different than Comfort, which is typical for the dark and distorted view of grace and God embraced by all once saved always saved teachers. To listen to Ray Comfort speak the above words from his famous Hell's Best Kept Secret sermon, click Ray Comfort is an eternal security teacher and HERETIC.
Sharing In The Wicked Work of Ray Comfort
I know people who rightly oppose eternal security, but also promote that damnable heresy indirectly by using Ray Comfort's Living Waters Way of The Master gospel tracts, books, CDs, etc., as well as endorsing Hell's Best Kept Secret. Why can't they see the harm they are doing? Their actions are very disheartening to me and counterproductive for God's kingdom. What they are doing is like fighting illegal drugs and dispensing those same drugs simultaneously! It is an irrational contradiction, which reveals such ministries and individuals as dangerously lacking in this spiritual battle for truth and SOULS, especially after being previously shown. For some, it also reveals them as trying to appease everyone, in both camps, regarding the subject of the believer's security, but that is NOT God's way! Jesus spoke the clear, consistent truth and if people walked away over truth, they walked away. TRUTH should be the issue, not how popular we can become. For souls to be better safeguarded God's truth must be known. That includes the fact that various spiritually lethal things can occur between initial and final salvation. Folks, we aren't in God's kingdom yet! We must endure to the end for final salvation (Mt. 10:22; Heb. 3:14; Rev. 2:10,11).
Also, Ray Comfort's tracts might be catchy and appealing in appearance, but they are severely lacking and will draw people to his overall doctrine, including the damnable heresy of eternal security! MUCH BETTER materials for evangelizing are available, though not as well known. [In fact you can print your own FREE gospel tracts.]
Remember, Ray Comfort is NOT biblically sound, though he is a fluent and popular teacher. Take WARNING and do NOT share in Comfort's wicked work (2 John 10-11) associated with eternal security which is from the devil, regardless who teaches it – Comfort or someone else! Ray Comfort's Way Of The Master is NOT the Biblical way of the Master and the real Hell's Best Kept Secret is: there is NO eternal security.