When I was a Catholic, I often heard the Salve Regina (Hail Holy Queen) prayer recited. It is found at the end of the rosary and focuses on the Mary of Catholicism. It is a complete fabrication and dangerously misinforms people about eternal life! This is how the Salve Regina is recited by Catholics: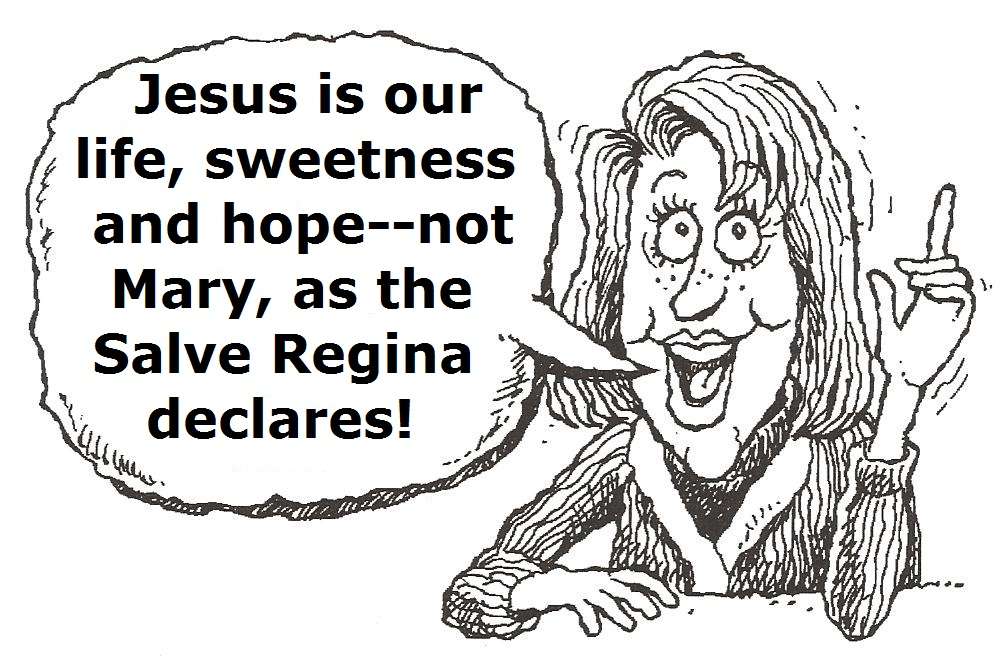 Hail, Holy Queen, Mother of Mercy, hail, our life, our sweetness, and our hope! To thee do we cry, poor banished children of Eve! To thee do we send up our sighs, mourning and weeping in this vale of tears. Turn then, most gracious advocate, thine eyes of mercy toward us; and after this, our exile, show us the blessed fruit of thy womb, Jesus. O clement, O loving, O sweet Virgin Mary!
(In my book, Is This The Mary Of The Bible, the numerous errors cited in that prayer are Biblically addressed.)
A Catholic's Email On The Salve Regina
Via an email, a Roman Catholic gives his explanation:
I think of the Salve Regina prayer which begins, "Hail Holy Queen, Mother of Mercy, our life, our sweetness, and our hope." She is, in a sense, our life, because she is the Mother of all Christians; she is the woman whose offspring have been at war with the dragon. From Scripture can see that Mary is a new Eve, and so she becomes the Mother of all those who are living in Christ; she gives Life to her spiritual children in a very real and mystical way. …She sits at her Son's right hand and is never refused…. she saves our life by requesting those things for us that we need, physically, and most importantly, spiritually; every grace imaginable, including the grace of repentance and final perseverance until death. She anticipates our greatest needs, and Jesus always honors His Mother's requests (cf. Wedding of Cana).
A much more common Catholic view of the Salve Regina is found in The Glories of Mary, written by the Catholic Saint Alphonsus Mary Liguori. To this day and for over two centuries Catholicism continues to endorse that heretical and highly idolatrous book by one of their three dozen doctors. That classic book is one of the most poison-filled cult books I have ever read!
More Catholic Truths
The Salve Regina cancels out Jesus and replaces him with a mythical Mother Mary which is venerated among Roman Catholics as their life, sweetness and hope! Just those three titles given to the Catholic Queen of Heaven are enough to reveal that the spiritual source behind Catholicism is NOT the same as the one which gave us the Bible. Why? Because the Lord Jesus is our life (Col. 3:4), our sweetness (Mt. 11:29) and our hope (1 Tim. 1:1), plus scores of other vital things. Do you know JESUS NOW? Remember, do NOT focus on the Mary of the Salve Regina, but focus upon Jesus himself, who is our true life, sweetness and hope.