[Bible Question related to the seal of the Holy Spirit] …As I look at the Israelites entering the promise land, they failed to drive out all the inhabitants which led to them falling away. I see this as a warning for believers today, that it is possible for us to forget the Lord and to be destroyed by God. However, I wrestle with Ephesians 1:14 where Paul writes about the Holy Spirit, who is a deposit guaranteeing our inheritance. Is it possible for us to lose the Holy Spirit?…I would welcome your thoughts on this. Thanks for your faithfulness to the Word of God!
Seal Of The Holy Spirit Explained
[Bible Answer] I am very glad you found us. Our security in Christ is vital to know about, yet very few seem to adequately understand it, even those who rightly reject eternal security! When you stated that it is possible for believers to forget the Lord and be destroyed by him, you are right. The concept of spiritual death (and a warning about it) can be found from Gen. 2:17 through the end of Revelation! If a righteous man turns to evil, as King David did when he turned to adultery and murder, he will die spiritually for it (Ezek. 33:18; etc.). David lost his salvation, but got it back again when he repented like the prodigal son (Luke 15:24). Hence, we must resist the devil and his temptations. This is very serious for we must endure to the end to be saved (Mt. 10:22; Heb. 3:14; Rev. 2:10,11). So how does that fit in with the seal of the Holy Spirit and the guarantee you asked about?
And you also were included in Christ when you heard the word of truth, the gospel of your salvation. Having believed, you were marked in him with a seal, the promised Holy Spirit, who is a deposit guaranteeing our inheritance until the redemption of those who are God's possession–to the praise of his glory. (Eph 1:13,14)
The Holy Spirit himself, who is resident within the followers of Jesus, is both the seal and the deposit. He is the deposit (the Holy Spirit who guarantees). It is important to know that the Holy Spirit can depart, as happened with Saul:
Now the Spirit of the LORD had departed from Saul, and an evil spirit from the LORD tormented him. (1 Sam 16:14)
The same possible tragedy is implied in the New Testament:
But Christ is faithful as a son over God's house. And we are his house, if we hold on to our courage and the hope of which we boast. (Heb 3:6)

Do you not know that you are the temple of God and that the Spirit of God dwells in you? If anyone defiles the temple of God, God will destroy him. For the temple of God is holy, which temple you are. (1 Cor 3:17, NKJV)
In the Bible, a seal from a king was placed on a document showing it was authentic and wasn't tampered with.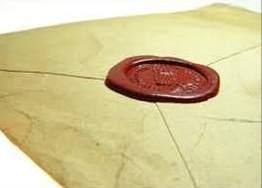 It could be BROKEN! So don't let the once saved always saved teachers distort the meaning to teach their doctrine. 
If we don't remain God's house (because we didn't HOLD ON to our courage and hope) and get destroyed by him (because we defiled our temple), we will join the majority in eternal torment where their worm dies not! Please know, if you are led by the flesh (or sinful nature), you are NOT a child of God and do not have the Spirit of God:
Those controlled by the sinful nature cannot please God. You, however, are controlled not by the sinful nature but by the Spirit, if the Spirit of God lives in you. And if anyone does not have the Spirit of Christ, he does not belong to Christ. (Rom 8:8,9)
Paul Who Wrote About The Seal Also Wrote
BTW, four chapters past Eph. 1:14 (and beyond Paul stating we are saved by grace at 2:8,9) is Eph. 5:5-7. Clearly, it violently contradicts the eternal security understanding of the seal of the Holy Spirit and grace. Again, it doesn't support once saved always saved, because that doctrine is of the devil:
For of this you can be sure: No immoral, impure or greedy person–such a man is an idolater–has any inheritance in the kingdom of Christ and of God. Let no one deceive you with empty words, for because of such things God's wrath comes on those who are disobedient. Therefore do not be partners with them. (Eph 5:5-7)
[There is no hint in Eph. 5:5-7 that the seal of the Holy Spirit will prevent the disinheritance of the kingdom of Christ and of God for a Christian for those who turn to immorality, impurity or greed.  Just the opposite is stated. Hence, do NOT allow an eternal security teacher "read into" the Holy Spirit seal of redemption something which is not there.]
God's Seal of Approval
Please consider reading our NO eternal security book, "The Believer's Conditional Security." It thoroughly addresses all the related issues dealing with once saved always saved (OSAS). [It is the most complete volume ever written refuting eternal security.] Here are some Bible questions related to eternal security and eternal life, which should further help you with this issue. Remember, if you disown Jesus, he will disown you (Mt. 10:33; 2 Tim. 2:12). Remember, there is absolutely NO security in sin.