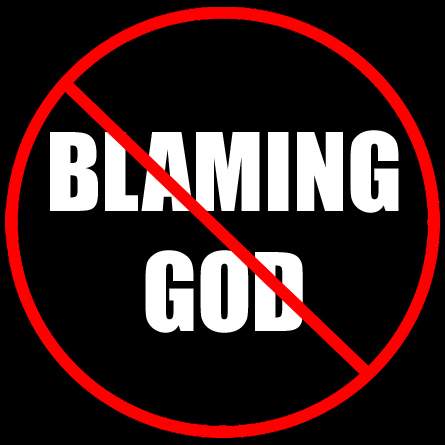 Should we blame God for bad things in life? Many people wrongly blame God for everything, but are they justified in doing so? How does the devil, man's freewill and this general cursed age fit into all this? Let's look at the Scriptures for the various reasons painful things happen to us all.
What Is Bad?
First, how can we be sure an event is really bad? There are so many Biblical examples citing the different "bad" things that happened, which really turned out for good in the end, as with Joseph being sold into Egyptian slavery so he could advance into the palace. By looking at the big picture, it wasn't really bad as it first appeared. Furthermore, John being exiled to Patmos resulted in the Book of Revelation, and Paul being in prison resulted in the prison epistles (Ephesians, Philippians, Colossians, and Philemon).
Should We Blame God — Discipline and Tests
Then we have God's discipline, which can be painful (Heb. 12:5-7). As it says there, "hardness" can be God's discipline, but that is not bad. His discipline is good, though it doesn't seem like it:
No discipline seems pleasant at the time, but painful. Later on, however, it produces a harvest of righteousness and peace for those who have been trained by it. (Heb 12:11)
Moreover, with Job, the "bad" things were a very severe TEST through which Job got "ruined" without reason (Job 2:3), but that was temporary. Again, the big picture needs to be viewed.
Should We Blame God For Man's Folly or His Sin
Proverbs adds to the aforementioned with this truth about man's freewill:
A man's own folly ruins his life, yet his heart rages against the LORD. (Prov 19:3)

The evil deeds of a wicked man ensnare him; the cords of his sin hold him fast. He will die for lack of discipline, led astray by his own great folly. (Prov 5:22,23)
That is exactly what I personally observed with a man I knew very well, who believed in the LIE OF CALVINISM and its predestination. He wrongly blamed God for everything he thought was bad, but his own folly needlessly brought some of it on himself! He was very close to suicide at one point as an eternal security proponent — thinking he would go to heaven afterwards like many others who were deceived and went through with it, including George Sodini. Perhaps it was the sharp rebuke I gave him of his certain damnation in hell if he did commit suicide, that helped prevent it! Certainly, Calvinism has ruined many lives as God gets the blame for some needless painful circumstances.
Trouble Every Day
No one can escape trouble in our cursed age. Jesus spoke the vital truth — being unlike positive speaker smiley Joel Osteen and papist Kenneth Copeland:
Therefore do not worry about tomorrow, for tomorrow will worry about itself. Each day has enough trouble of its own. (Mat 6:34)
Trouble comes daily on the righteous and unrighteous. Blaming God for such trouble surely won't resolve it. God is the answer and solution. He's not the problem to be blamed! The devil wants us to blame God to drive a wedge between us and God. He is the deceiver.
The Avenger's Retaliation
On the other hand the devil is called the "avenger" in Psa. 8:2. He causes MAJOR trouble and conflict for people, especially God's servants. Consider what Paul went through because he faithfully served God — jail time, beatings, stoning, life in danger, etc. Some of the things Paul observed PERPLEXED him! "We are hard pressed on every side, but not crushed; perplexed, but not in despair; persecuted, but not abandoned; struck down, but not destroyed." (2 Cor 4:8,9) Should we blame God for what the devil does? Never! Consider also the following:
Do not be afraid of what you are about to suffer. I tell you, the devil will put some of you in prison to test you, and you will suffer persecution for ten days. Be faithful, even to the point of death, and I will give you the crown of life. He who has an ear, let him hear what the Spirit says to the churches. He who overcomes will not be hurt at all by the second death. (Rev 2:10,11)

So Satan went out from the presence of the LORD and afflicted Job with painful sores from the soles of his feet to the top of his head. (Job 2:7)
Rejoice In The Lord
God is infinite. His ways and thoughts are not like our (Isa. 55:8,9). The only way we can understand him and what he wants is found in the Bible and most of the "why" questions we may have about life are not answered.
Dear friends, do not be surprised at the painful trial you are suffering, as though something strange were happening to you. But rejoice that you participate in the sufferings of Christ, so that you may be overjoyed when his glory is revealed. (1 Pet 4:12,13)
That's the winning attitude, along with Romans 8:28:
And we know that in all things God works for the good of those who love him, who have been called according to his purpose.