If you still think going to church is the spiritual cure-all and sole evidence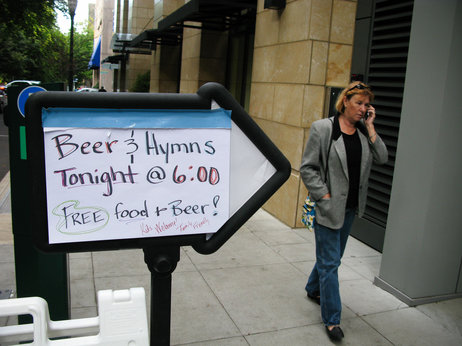 one needs to go to heaven after death, perhaps this will help convince you otherwise! Popping up in various locations, from Lutheran to Christian Church to others, is Church-in-a pub! To attract new members across the USA some so-called churches will do more that distort the word of God! They will also offer free beer:
Beer For Church Attendants
Some patrons are understandably confused. They come in for a brew and there's a religious service going on in their bar. They expected Trivia Night and they get the Holy Eucharist. ( http://www.npr.org/blogs/thesalt/2013/11/03/242301642/to-stave-off-decline-churches-attract-new-members-with-beer  )

Because of the dwindling number of church members a new of attracting people has developed. A senior pastor from Portland, Oregon comments:
Amy Piatt is senior pastor at First Christian Church Portland. She's a sixth-generation Disciple of Christ and the originator of Beer & Hymns. She says in this postmodern age, what it means to attend church is changing. "It's probably, in the very near future, not going to be at 10 am on Sunday morning wearing your best shoes and tie or dress," she says. "It's going to be something different. I mean, what that is, we are still finding out, we're still learning together. But it's still holy, God is still there, and that's what's most important." To doubters, the Beer & God crowd has this pop quiz. What was the first miracle Jesus performed? Turning water into wine. ( ibid.  )
Dangerous Churches
Such new church trends do not change the holy standard set for God's chosen people. It just substantiates the dark and deplorable condition many of the church congregations are now in. Instead of being a pillar of truth as they should be (1 Tim. 3:15), many are only worldly entertainment centers where the vilest unrepentant sinners can come and feel completely at ease as they consume alcohol free of charge without feeling condemned by the putrid preaching or the unholy examples which are present. These people are beyond lukewarm as they attend these dangerous churches. They're dangerous, not like a snake handling church is, but because these liberal churches claim something related to God and eternal life that is a counterfeit. Perhaps, some of them have succumbed to the damnable heresy of once saved always saved preached by Ray Comfort, Joseph Prince and a multitude of others. Apparently they must think there are Christian drunks, which fits hand-in-glove with that counterfeit gospel.
How different such modern church leaders are to the Lord Jesus Christ who spoke the vital truths of eternal life, and if his own disciples walked away to never return (John 6:66) they walked away! At times, Jesus offended people, because the problem was in the hearts of the people offended, just as it is today. Speaking the vital truth of God at times has been wrongly labeled hate speech!
BTW, one atheist in a blog comment about these church-in-a-pub congregation, As an atheist, I find this hilarious, if not a bit sad. Even that atheist knows this is sad, but many professing Christians think they have freedom in Christ to do such as long as they get more people to attend their church services! As bad as this is, it will get worse as the days get darker. If you are a Bible-defined Christian, remember what Jesus taught:
Be dressed ready for service and keep your lamps burning, (Luke 12:35)
Don't let your spiritual lamps go out as 50% do in the last generation. It is spiritually fatal to not be ready when the Lord returns!
But while they were on their way to buy the oil, the bridegroom arrived. The virgins who were ready went in with him to the wedding banquet. And the door was shut. Later the others also came. "Sir! Sir!" they said. "Open the door for us!" But he replied, "I tell you the truth, I don't know you." Therefore keep watch, because you do not know the day or the hour. (Mat 25:10-13)
Jesus didn't say to them, I never knew you, but I don't know you! Do you know Jesus now?